PRESENTING AN ABSOLUTELY GORGEOUS Queen Anne Style Pedestal Desk.
Made of walnut, butterflied walnut, burl walnut and oyster wood, the veneers on this piece are STUNNING !
Made in England at the end of the 19th Century (circa 1890) this is a stunning replica of an original Queen Anne piece from the late 17th/early 18th Century !
The attention to detail is outstanding from the use of the correct period veneers, right down to the banding and parquetry inlays, to the hardware.
It is a diminutive desk as it should be as desk from the Queen Anne period were much, much smaller than desks made today due to the fact that in the 17/18th Century people were much smaller.
It consists of 2 pedestals with 2 drawers on each pedestal facing to the front, and 2 doors that open to a single shelf on the other side. The removeable top has 3 working drawers to the front only. It has a fabulous distressed and aged brown leather insert on the top in an oval/floret shape.
It sits on 4 curved padded feet.
Not marked but obviously made by a top, top maker !
This desk was acquired and owned by a Mr. Jim Quist a well known businessman and high society character in Dallas, who resided at Swiss Ave., Dallas until his death in 2020.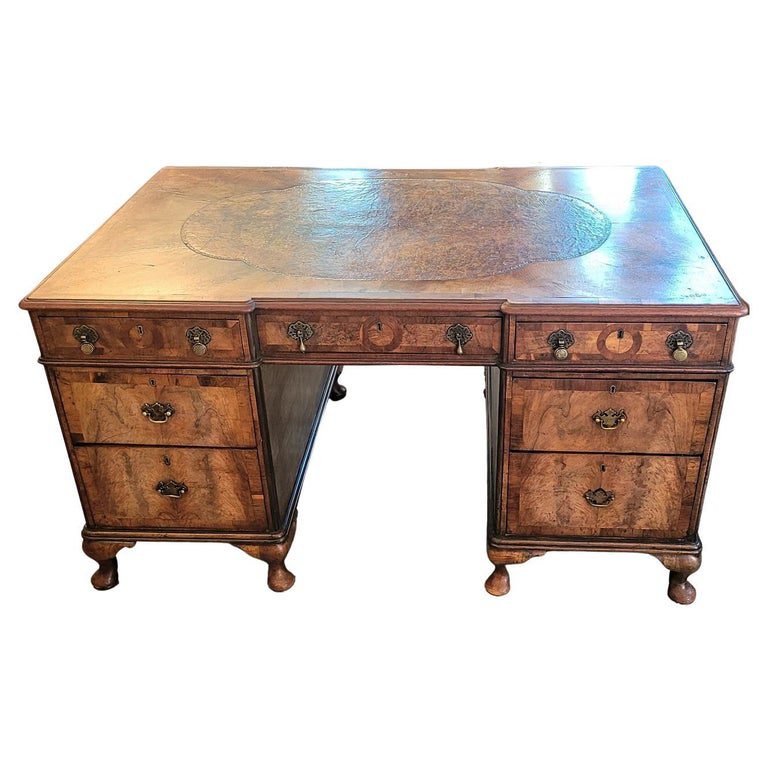 Anne (6 February 1665 – 1 August 1714) was Queen of England, Scotland, and Ireland between 8 March 1702 and 1 May 1707. On 1 May 1707, under the Acts of Union, the kingdoms of England and Scotland united as a single sovereign state known as Great Britain. She continued to reign as Queen of Great Britain and Ireland until her death in 1714.
Anne was born in the reign of Charles II to his younger brother and heir presumptive, James, whose suspected Roman Catholicism was unpopular in England. On Charles's instructions, Anne and her elder sister, Mary, were raised as Anglicans. Mary married their Dutch Protestant cousin, William III of Orange, in 1677, and Anne married Prince George of Denmark in 1683. On Charles's death in 1685, James succeeded to the throne, but just three years later he was deposed in the Glorious Revolution of 1688. Mary and William became joint monarchs. Although the sisters had been close, disagreements over Anne's finances, status, and choice of acquaintances arose shortly after Mary's accession and they became estranged. William and Mary had no children. After Mary's death in 1694, William reigned alone until his own death in 1702, when Anne succeeded him.
During her reign, Anne favoured moderate Tory politicians, who were more likely to share her Anglican religious views than their opponents, the Whigs. The Whigs grew more powerful during the course of the War of the Spanish Succession, until 1710 when Anne dismissed many of them from office. Her close friendship with Sarah Churchill, Duchess of Marlborough, turned sour as the result of political differences. The Duchess took revenge with an unflattering description of the Queen in her memoirs, which was widely accepted by historians until Anne was re-assessed in the late 20th century.
Anne was plagued by ill health throughout her life, and from her thirties she grew increasingly ill and obese. Despite seventeen pregnancies, she died without surviving issue and was the last monarch of the House of Stuart. Under the Act of Settlement 1701, which excluded all Catholics, she was succeeded by her second cousin George I of the House of Hanover.
Link: https://en.wikipedia.org/wiki/Anne,_Queen_of_Great_Britain
Queen Anne Style Pedestal Desk.
Provenance: From the Quist Estate in Dallas
Condition: Very good original condition. The 2 teardrop pulls on the front center drawer are later replacements but compliment the period and style. Some very minor veneer repairs, professionally touched up. No keys.
Dimensions: 29 inches tall, 54 inches wide and 33 inches deep. Kneehole Clearance 23.5 inches tall and 18.5 inches wide.
PRICE NOW: $6,500