Early 20C Bronze Chandelier & Wall Light Set – 7 Matching Pieces !!.
PRESENTING A STUNNING, HIGH QUALITY and EXTREMELY RARE Early 20th Century (Nouveau/Deco Era) Pierced Bronze Globe Chandelier with matching Set of 6 Three Arm Pierced Bronze Wall Lights or Sconces…..from circa 1925-30.
The Chandelier consists of 6 Arms with a large finial to the base, a central pierced Globe with stunning fretwork and a solid graduated top section. All ORIGINAL fittings.
The Set of 6 matching Wall Lights or Sconces, each have 3 arms attached to a pierced bronze medallion (matching the pierced Globe on the Chandelier). All with original fittings.
Elegant and stylish pieces. These would have been very high-end items in their day!
They were located in a Mansion in Highland Park, Texas built in 1929.
Classic Art Nouveau or Deco style and design !!!
They exude quality and style !!!
YOU WILL NOT FIND A COMPLETE SET LIKE THIS ANYWHERE!!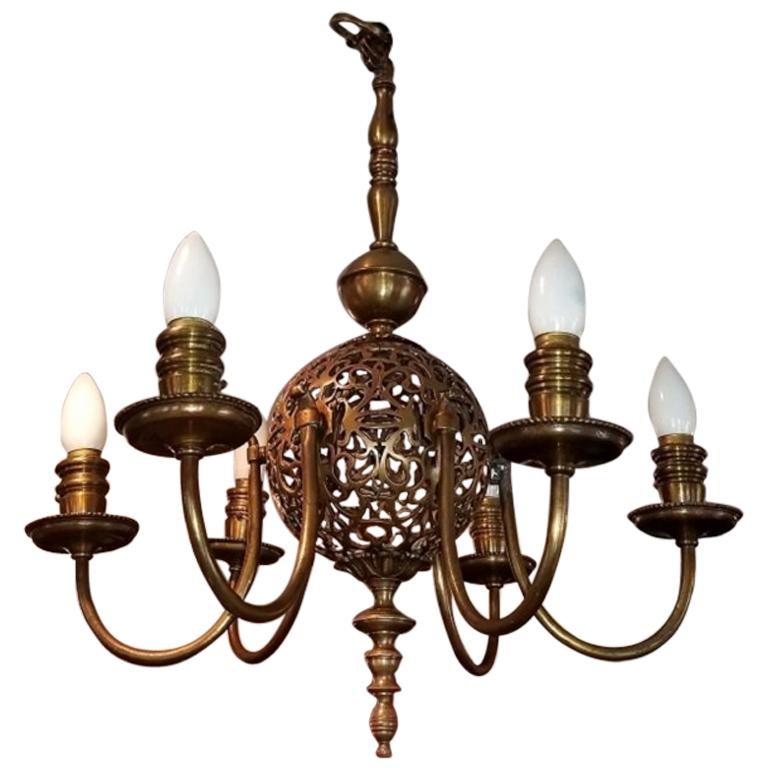 ART DECO ERA: Art Deco (/ˌɑːrt ˈdɛkoʊ/), or Deco, is an influential visual arts design style that first appeared in France just before World War I [1] and began flourishing internationally in the 1920s, 1930s and 1940s before its popularity waned after World War II.[2] It took its name, short for Arts Décoratifs, from the Exposition Internationale des Arts Décoratifs et Industriels Modernes (International Exposition of Modern Decorative and Industrial Arts) held in Paris in 1925.[3] It is an eclectic style that combines traditional craft motifs with Machine Age imagery and materials. The style is often characterized by rich colours, bold geometric shapes and lavish ornamentation.
Deco emerged from the interwar period when rapid industrialisation was transforming culture. One of its major attributes is an embrace of technology. This distinguishes Deco from the organic motifs favoured by its predecessor Art Nouveau.
Historian Bevis Hillier defined Art Deco as "an assertively modern style [that] ran to symmetry rather than asymmetry, and to the rectilinear rather than the curvilinear; it responded to the demands of the machine and of new material [and] the requirements of mass production".
During its heyday, Art Deco represented luxury, glamour, exuberance and faith in social and technological progress.
Link: https://en.wikipedia.org/wiki/Art_Deco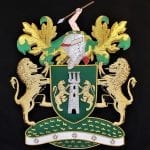 Early 20C Bronze Chandelier & Wall Light Set.
Provenance: Part of a Private Dallas Collection.
Dimensions: Chandelier: 27″ long with a diameter of 21″
Each Wall Light is 12.5″ Long and 11.5″ Wide
Condition: Near Mint ….. one repair to one arm of the chandelier (but not clearly visible) and likewise one minor repair to one arm of one of the wall lights that is not visible. All in perfect working condition.
Note: We are only selling these as a Set. We will NOT be splitting up the Set…..they really NEED to stay together.
SALE PRICE NOW: $5,500

(Full Set)