Vintage Reichenbach Porcelain Candy Dish 22K Gold Flowers and Trim Germany.
PRESENTING a BEAUTIFUL Vintage Reichenbach Porcelain Candy Dish ……….. 22K Gold Flowers and Trim from Germany.
3 Sectioned dish with handle. Hand gilded with 22k gold flowers and edging.
BEAUTIFUL piece of German porcelain!!!
Reichenbach Porcelain
The Thuringian village of Reichenbach, situated close to the Hermsdorf autobahn interchange, has been dominated by the manufacture of porcelain since 1830, when Reichenbach artists first decorated delicate pieces with hand-painted motifs in their studios. In 1900 nine of the village's porcelain painters joined forces and founded a porcelain manufactory, which formed the basis of Porzellanmanufaktur Reichenbach, the company that still employs a large number of local artisans. The local museum gives an insight into the village's history with a recreation of a porcelain painter's workshop from around 1900, collectible cups and a variety of temporary exhibitions. It also runs guided tours of the village and the restored church.
Since the early days, production at the factory has been mainly by hand. Depending on customer requirements, domestic and ornamental porcelain is produced in a wide range of batch sizes and even as one-offs. Along with traditional patterns such as Blue Onion and Indian Blue the factory also creates innovative designer products. In 2006 it received the Federal Design Award for its Hombroiche collection. Gräfenthal, a long-established company producing ornamental figurines made and painted by hand, is also part of Porzellanmanufaktur Reichenbach. Its collection of 10,000 models for porcelain figurines represents an important element of the cultural history of Thuringian porcelain.
Offers for visitor to Reichenbach include a creative course for groups, where participants can learn to decorate porcelain themselves under the watchful eye of a porcelain painter. While participants are having lunch in the village, the decorated pieces are fired at the factory so that they can be taken home. A visit to the factory outlet store rounds off the experience. Packages that give independent travellers a glimpse into porcelain production at Reichenbach are also available.
Link: http://www.travel1000places.com/visit/germany/120-006,Reichenbach-German-Porcelain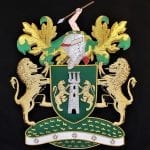 Vintage Reichenbach Porcelain Candy Dish.
Provenance: From a Private Dealers Collection.
Condition: Mint.
Dimensions:
Price Now: $80.00