MCM John-Orwar Lake Style Opalescent Art Glass Bowl.
PRESENTING a really nice and pretty Mid-Century Modern John-Orwar Lake Style Opalescent Art Glass Bowl.
Swedish, from circa 1970.
Signed……but we cannot make out the signature…..it looks like the letter "L" and in my opinion it is a John-Orwar Lake piece.
Heavy and large art glass piece with an opalescent hue of pinks, orange and purples.  It changes colors depending on the light.
Highly collectible !!
MCM John-Orwar Lake Style Opalescent Art Glass Bowl.
Ekenas Glasbruk, a Swedish glassworks, was founded in 1917 by R. Stahl and Hjalmar Stahl, who formally worked at Orrefors. In 1922, Sven Westberg bought the company, and was manager until he died in 1962. It was then ran by Claes Tell and his son until the company closed in 1976. Designers at the factory included John Orwar Lake and Michael Bang.
Ekenas glassworks was founded by former Orrefors glassworkers in 1917. The Ekenas glassworks were purchased by Sven Westberg in 1922, who remained its owner his death in 1962. The famous sculptor John-Orwar Lake worked at Ekenas from 1953 until 1976, when the factory closed. 
Link: https://www.glassfromsweden.com/ekenas.html
Since 1898, art and crystal glass for everyday use has been produced under the brand of Orrefors. At our glassworks in Kosta, our skilled glassworkers are joined by several of Sweden's most prestigious designers in developing the design, craftsmanship and new techniques. A smaller part of our production has been produced at other renowned glassworks, mainly in Europe, since 2004. A few products are produced in Asia. At all glassworks, we use the same designers and in many cases the production techniques developed by ourselves in Småland, Sweden.
The successes of Simon Gate and Edward Hald in Paris in 1925 constituted the start of the long Orrefors tradition of creative design closely combined with genuine and innovative craftsmanship.
Since then, new designers and skilled glassmakers have continued in the spirit of Gate and Hald. Vicke Lindstrand and Edvin Öhrström with the new glass technique called Ariel in the 1930s. Sven Palmqvist with Kraka and Ravenna in the 1940s. And in the 1950s with Fuga, which, along with Nils Landberg's slender tulip-shaped glass "Tulpan" and Ingeborg Lundin's apple-shaped vase "Äpplet", are now seen as symbols of the renaissance of Swedish design. The 1960s are associated with Gunnar Cyrén's Pop glass, and in the 1970s, Eva Englund, Olle Alberius, Lars Hellsten and Jan Johansson as well as Cyrén worked at the glassworks.
Since the 1980s, designers such as Anne Nilsson, Erika Lagerbielke, Helen Krantz, Matz Borgström, Per B Sundberg, Martti Rytkönen, Lena Bergström, Ingegerd Råman, Malin Lindahl and Efva Attling have helped to propel Orrefors design heritage into the future.
Orrefors Glassworks was founded in 1898 on the same site where ironworks operations had been run since 1726. In the same year that the glassworks was founded, a hot shop was built for making technical, medical and household glass and stemware to make use of waste wood and labour. Glass now replaced the less profitable ironworks operations.
In 1913, Consul Johan Ekman from Gothenburg became the new owner of Orrefors Glassworks. He appointed Albert Ahlin as manager of the glassworks and this marked the start of a new era. In 1914, Orrefors started manufacturing crystal products, and as well as cut crystal according to purchased patterns and samples, Orrefors made art glass using the overlay technique with etched decoration. The new management quickly saw that artists were needed in the business, so Simon Gate was employed in 1916 and was joined by Edward Hald a year later.
That same year, Gate and Hald made their first tentative attempts at figure engraving. They also experimented with the new innovative graal (grail) glass technique that was developed at Orrefors by the master glassblower Knut Bergqvist. The major successes were achieved a few years later at the Gothenburg Exhibition in 1923, and in particular at the Paris Exhibition in 1925. The thin engraved glass was admired by the surrounding world, and both Orrefors and the artists themselves were awarded the Grand Prix.
Link: https://www.orrefors.us/about/history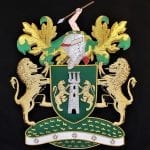 MCM John-Orwar Lake Style Opalescent Art Glass Bowl.
Provenance: From a Texas Dealer's Private Collection.
Dimensions: 10.5″ Diameter and 3.5 " Tall
Condition: Mint.
Price Now: $250