Vintage 1980s Playart Shell Oil Truck2..
Presenting a EXTREMELY RARE Vintage 1980s Playart Shell Oil Truck.
It is next to impossible to  find these.
Die cast metal.
Vintage 1980s Playart Shell Oil Truck2.
Playart was a toy company owned by Hong Kong industrialist Duncan Tong (唐鼎康) that specialized in die-cast cars, similar in size and style to Hot Wheels, Matchbox or Tomica. Cars were well done, but were often diecast seconds from other companies like Yatming or Tomica. Cars were made from 1965 to 1983 at the factory in San Po Kong, Kowloon, Hong Kong. Plastic cars and trucks of 1:43, and 1:24 scale were also made, while trains and other theme toys also appeared.
Playart's 1/64 scale diecast line had a complex identification system. Numbers can be found on Playart display posters, blister-paks, and, infrequently, on the vehicle base – which also carries the name of the vehicle. The existence of 48 vehicles have been confirmed from the above sources and examination of the bases of the earliest editions (see Appendix 1 below). These 48 were the original line-up.
Like Hot Wheels and Matchbox "Superfast", Playart cars had thin axle, fast spinning 'mag' wheels. Models released during the 1970s had metal bodies as well as metal bases which were usually painted 'chrome' with the unmistakable Playart script. Later 1970s models were released with glossy black enamel bases. Late 1970s and early 1980s releases mostly had plastic bases. Two notable rounded rivet heads affix the chassis to the body. The name of the car was present and the text said, "Made in Hong Kong".
Despite the cleverness of model selection, many if not most Playart small scale cars seem to have been based on casting seconds from toy lines elsewhere. For example, the Thunderbird, Barracuda, and AMX are very similar to earlier Mattel Hot Wheels offerings. The Porsche 910, Man from Uncle Oldsmobile, Carabo and Alfa P33 are nearly identical to Husky/Corgi Jr. dies or to larger-scale Corgi castings, as are the later Chevrolet Caprice and Opel Senator. The Jensen FF appears to be a scaled-down version of the larger Dinky model, as is the Cadillac Eldorado. Many of the Japanese vehicles appear to have once been Tomicas and some Playart models are copies of Matchboxes (specifically the bulldozer with cab, and the Estate Wagon which is similar to the Matchbox Mercury station wagon). A few others were apparently Yatmings or Zylmexes, while others were modeled on plastic kits. One of these, the Mazda Rotary Coupe was initially identified on its base as Yamada Super Discmatic Rotary Coupe – the same name as the model kit series – apparently copying the brand name from the Yamada box instead of the Mazda name. Conversely, it appears the Singapore firm Mandarin may have used some Playart dies for some of its truck models.
Link: https://en.wikipedia.org/wiki/Playart
Our entire Collection of Vintage Toy Cars, Trains, Model Buildings and everything for the train enthusiast, railfan or ferroequinologist was acquired by us from the Estate of a Private Collector in Texas, who amassed his enormous collection over the 1970's and 1980's. He had dedicated an entire room of his house to his train collection. He had assembled and built an entire 'City' to accompany his collection. He died in 1994 and his collection remained 'untouched' until we acquired it in its entirety. Once cleaned, the collection was in MINT condition.
NOTE: We have not tested any of the trains and cannot vouch or warrant for their working condition. We were informed by the personal representative in the Estate that everything was working perfectly up to the death of the owner, and as previously indicated have remained 'untouched' since then.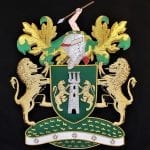 Vintage 1980s Playart Shell Oil Truck2.
Provenance: From a Private Collector.
Dimensions: 
3.5″ long,  1″ tall and  4.75" wide
Condition: Near Mint.
Price Now: $18.99