Vintage 1980s Majorette Kansas City Carriage.
Presenting a EXTREMELY RARE Vintage 1980s Majorette Kansas City Carriage/Stagecoach.
Die cast metal….. Made in France.
The Set includes:
Vintage 1980s Majorette Kansas City Stagecoach Carriage…no horses.
Majorette is a French toy manufacturer which mostly produces small die-cast cars and other construction and military vehicles particularly in 1:64 scale. This is a normal 2.5 to 3 inch size, thus Majorette has sometimes been called the Matchbox Toys of France. Traditionally, production was centered in the urban area of Lyon, but models are now made in Thailand.
The company was founded in 1961 by Emile Véron – of the family that also created Norev (the Véron family name spelled backwards)(Richardson 1999, p. 156). Initially, model railways and accessories were made and the firm was known as Rail-Route. By 1964 the first cars came to market, and in 1967, the name was changed to Majorette.Majorette became the main French manufacturer of Matchbox-sized miniature vehicles (roughly pegged to 3 inches long, so of varying scales). The company soon became the largest producer of any French toy car manufacturer. The company has generally focused on everyday French and European models, and the main toy competition was Matchbox of Hackney, London, but also German Siku and, conceptually, Japanese Tomica. Though French cars like Peugeot and Renault were emphasized, other licensed marques covered by Majorette include North American vehicles from General Motors, Ford, and Chrysler. Japanese Nissan and Toyota are also represented (Ragan 2000, p. 37).
Link: https://en.wikipedia.org/wiki/Majorette_(toy_manufacturer)
Our entire Collection of Vintage Toy Cars, Trains, Model Buildings and everything for the train enthusiast, railfan or ferroequinologist was acquired by us from the Estate of a Private Collector in Texas, who amassed his enormous collection over the 1970's and 1980's. He had dedicated an entire room of his house to his train collection. He had assembled and built an entire 'City' to accompany his collection. He died in 1994 and his collection remained 'untouched' until we acquired it in its entirety. Once cleaned, the collection was in MINT condition.
NOTE: We have not tested any of the trains and cannot vouch or warrant for their working condition. We were informed by the personal representative in the Estate that everything was working perfectly up to the death of the owner, and as previously indicated have remained 'untouched' since then.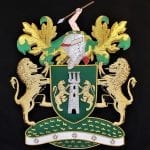 Vintage 1980s Majorette Kansas City Carriage.
Provenance: From a Private Collector.
Dimensions:
Condition: Near Mint.
Price Now: $22.99