Vintage 1976 Hot Wheels Army Green US Postal Van2.
Presenting a VERY RARE Vintage 1976 Hot Wheels Army Green US Postal Van
Die cast metal.
The Set includes:
Vintage 1976 Hot Wheels Army Green US Postal Van.
Hot Wheels is a brand of 1:64, 1:43, 1:18 and 1:50 scale die-cast toy cars introduced by American toy maker Mattel in 1968. It was the primary competitor of Matchbox until 1997, when Mattel bought Tyco Toys, then-owner of Matchbox.Many automobile manufacturers have licensed Hot Wheels to make scale models of their cars, allowing the use of original design blueprints and detailing. Although Hot Wheels were originally intended for children and young adults, they have become popular with adult collectors, for whom limited edition models are now made available.
1970 was a first-rate year for Hot Wheels, so Mattel came up with a new slogan for the cars: "Go With the Winner".[7] 43 new cars appeared this year. This was also the year that Sizzlers and Heavyweights appeared. Howard Rees, who worked with Ira Gilford, was tired of designing cars. He wanted to work on the Major Matt Mason action figure toy line-up. Rees had a good friend by the name of Larry Wood. They had worked together at Ford designing cars. When Wood found out about Hot Wheels at a party Rees was holding, Rees offered Wood the job of designing Hot Wheels. Wood agreed, and by the end of the week, Wood was working at Mattel. His first design would be the Tri-Baby. After 36 years, Wood still works for Hot Wheels.[8]Another designer, Paul Tam, joined Wood and Gilford. Tam's first design for Hot Wheels was the Whip Creamer.[9] Tam continued to work for Mattel until 1973. Among the many futuristic designs Tam thought up for Hot Wheels, some of the collector's favorites include Evil Weevil (a Volkswagen with two engines), Open Fire (an AMC Gremlin with six wheels), Six Shooter (another six wheeled car), and the rare Double Header (co-designed with Larry Wood).1970 introduced the Snake and the Mongoose. Anyone with even the least interest in motorsports knows the story of the Snake and the Mongoose, a rivalry that was put over the top with the then-unique sponsorship of Mattel's Hot Wheels. This was notably drag racing's first major non-automotive corporate sponsor, and the beginning of the NHRA's booming popularity with high-dollar teams and championships. 1970 also introduced the first Silver Series, which were 3 cars, the Boss Hoss, the Heavy Chevy, and the King 'Kuda. These 3 cars were obtained through a mail in offer that included a membership to the Hot Wheels Club. These 3 silver cars had a supercharged engine without a hood and open header exhaust. Supposedly these 3 Silver Cars were faster than the rest, because they were heavier than the other gravity models.However, 1972 and 1973 were slow years. Only 7 new models were made in 1972. Of the 24 models appearing for 1973, only 3 were new models. Also the cars changed from Mattel's in house Spectraflame colors to mostly-drab, solid enamel colors, which mainline Hot Wheels cars still use today. Due to low sales, and the fact that the majority of the castings were not re-used in later years, the 1972-3 models are known to be very collectible.In 1974, Hot Wheels introduced its Flying Colors line, and added flashy decals and tampo-printed paint designs which helped revitalize sales. As with the low-friction wheels in 1968, this innovation was revolutionary in the industry, and — although far less effective in terms of sales impact than in 1968 — was copied by the competition, who did not want to be outmaneuvered again by Mattel product strategists.In 1977, the Redline Wheel was phased out, with the red lines being erased from the wheels. This cut costs, but also reflected that the red lines popularized during the era of muscle cars and Polyglas tires were no longer current. During this period, there was a trend away from wild hot rods and fictitious cars and a move to more realistic cars and trucks.
Link: https://en.wikipedia.org/wiki/Hot_Wheels
Our entire Collection of Vintage Toy Cars, Trains, Model Buildings and everything for the train enthusiast, railfan or ferroequinologist was acquired by us from the Estate of a Private Collector in Texas, who amassed his enormous collection over the 1970's and 1980's. He had dedicated an entire room of his house to his train collection. He had assembled and built an entire 'City' to accompany his collection. He died in 1994 and his collection remained 'untouched' until we acquired it in its entirety. Once cleaned, the collection was in MINT condition.
NOTE: We have not tested any of the trains and cannot vouch or warrant for their working condition. We were informed by the personal representative in the Estate that everything was working perfectly up to the death of the owner, and as previously indicated have remained 'untouched' since then.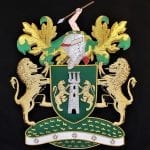 Vintage 1976 Hot Wheels Army Green US Postal Van2.
Provenance: From a Private Collector.
Dimensions: 
 " long,   " tall and    " wide
Condition: Some wear.
Price Now: $9.99