Vintage 1970s Midgetoy Trailer.
Presenting a EXTREMELY RARE Vintage 1970s Midgetoy Trailer.
Die cast metal……. Made in the USA.
The Set includes:
Vintage 1970s Midgetoy Trailer.
History of Midgetoy: 
Follow this Link:
Link: http://www.esnarf.com/MTstory.htm
Our entire Collection of Vintage Toy Cars, Trains, Model Buildings and everything for the train enthusiast, railfan or ferroequinologist was acquired by us from the Estate of a Private Collector in Texas, who amassed his enormous collection over the 1970's and 1980's. He had dedicated an entire room of his house to his train collection. He had assembled and built an entire 'City' to accompany his collection. He died in 1994 and his collection remained 'untouched' until we acquired it in its entirety. Once cleaned, the collection was in MINT condition.
NOTE: We have not tested any of the trains and cannot vouch or warrant for their working condition. We were informed by the personal representative in the Estate that everything was working perfectly up to the death of the owner, and as previously indicated have remained 'untouched' since then.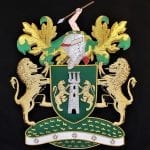 Vintage 1970s Midgetoy Trailer.
Provenance: From a Private Collector.
Dimensions: 
 " long,   " tall and    " wide
Condition:  Some Wear.
Price Now: $8.99