The Works of William Shakespeare 1868.
PRESENTING AN EXTREMELY RARE  FIRST EDITION hardback copy of "Chandos Classics", The Works of William Shakespeare, Life, Glossary etc REPRINTED FROM THE ORIGINAL EDITION and COMPARED WITH ALL RECENT COMMENTATORS. London, Frederick Warne and Company, Bedford Street, Covent Gasrden. New York: Scribner, Welford and Co., 1868.
This RARE book is in good condition for its age with some very minor 'knicks' on the edges of the spine and cover, some loosening of the binding, with some loose pages but none missing. Otherwise very GOOD. The text is almost perfect.
Leather and wavy paper jacket with gold lettering.
AS AN ADDED BONUS, the Book comes with a Label belonging to it's original owner, Major William Alexander Obenchain, a Civil War personality who served on General Robert E. Lee's Staff, and after the War became President of Ogden College in Bowling Green, KY (now the University of Western Kentucky).
The Book is also signed by Major Obenchain and dated Jan. 2 1869.
This book was part of the extensive private collection of the Calvert Hall/Obenchain/Godwin/McMillan Collection formerly of Bowling Green, KY and later, Highland Park, Texas.
AS you can see from the history of this Collection (see our PDF) the family have very strong ancestral ties to the States of Virginia, Kentucky and Texas.
YOU WILL NOT FIND THIS BOOK ANYWHERE ELSE!!
THIS BOOK CONTAINS ALL OF SHAKESPEARE'S PLAYS IN ONE VOLUME!!!
What makes this Book

SPECIAL

is :-
(1) It is a VERY RARE First Edition and
(2) it was owned (and signed) by a prominent Civil War personality (Major W.A. Obenchain)
IF YOU COLLECT ANTIQUARIAN BOOKS 

….
IF YOU LOVE SHAKESPEARE …….
THEN THIS BOOK IS ESSENTIAL FOR YOUR COLLECTION!!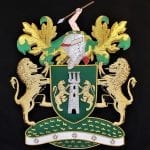 The Works of William Shakespeare 1868.
Provenance: Part of the Calvert Hall/Obenchain Collection.
Dimensions:  7″ x 5″
Condition: Fair to Good ORIGINAL CONDITION.
Price Now: $2,149
The Works of William Shakespeare 1868