PRESENTING a BEAUTIFUL Pair of Staffordshire Style Ceramic Spaniels.
In near Mint condition !
We are of the opinion that these are 20th Century reproduction pieces but still highly desirable and decorative, nonetheless !
One has a makers mark but we cannot discern the maker.
Black and white King Charles Spaniels with skin tone muzzles and gold tags and chains.
Probably made in England.
Original 19th Century Staffordshire Spaniels are still highly collected and can command very high prices. These are priced as decorative reproductions, but will give the owner, the 'look' of an original 19th Century pair !
The Staffordshire Potteries is the industrial area encompassing the six towns, Tunstall, Burslem, Hanley, Stoke, Fenton and Longton[1] that now make up the city of Stoke-on-Trent in Staffordshire, England. North Staffordshire became a centre of ceramic production in the early 17th century,[2] due to the local availability of clay, salt, lead and coal.
Hundreds of companies produced all kinds of pottery, from tablewares and decorative pieces to industrial items. The main pottery types of earthenware, stoneware and porcelain were all made in large quantities, and the Staffordshire industry was a major innovator in developing new varieties of ceramic bodies such as bone china and jasperware, as well as pioneering transfer printing and other glazing and decorating techniques. In general Staffordshire was strongest in the middle and low price ranges, though the finest and most expensive types of wares were also made.[3]
By the late 18th century North Staffordshire was the largest producer of ceramics in Britain, despite significant centres elsewhere. Large export markets took Staffordshire pottery around the world, especially in the 19th century.[4] Production had begun to decline in the late 19th century, as other countries developed their industries, and declined steeply after World War II. Some production continues in the area, but at a fraction of the levels at the peak of the industry.
The boom came after the discovery in 1720 by potter John Astbury of Shelton, that by adding heated and ground flint powder to the local reddish clay he could create a more palatable white or Creamware. The flint was sourced from either the South Coast of England or France, then shipped to the Port of Liverpool or to Shardlow on the River Trent.[5] After shipping by pack horses to the watermills local to the potteries, or to commercial flint grinding mills in either the Churnet Valley or Moddershall Valley, it was sorted to remove flint that had reddish hues, then heated to 1,200 °C (2,190 °F) to create an easily ground product.[5] A group involving James Brindley later patented a water based process that reduced the generation of fine siliceous dust, so lessening the risk to workers of suffering silicosis. In the early 1900s the process was converted to grinding bone, which had a similar effect.[5][6]
With the coming of pottery products distribution by railway that began in the 1840s, mainly by the London and North Western Railway and Midland Railway, there was a considerable increase in business.
Potteries active in the 19th century include Spode, Aynsley, Burleigh, Doulton, Dudson, Mintons, Moorcroft, Davenport, Twyford, and Wedgwood.
The Chartist 1842 General Strike was ignited by striking collieries in the Potteries, and led to the 1842 Pottery Riots.
Link: https://en.wikipedia.org/wiki/Staffordshire_Potteries
---
Staffordshire dog figurines are matching pairs of pottery spaniel dogs, standing guard, which were habitually placed on mantelpieces in 19th-century homes. Mainly manufactured in Staffordshire pottery, these earthenware figures were also made in other English counties and in Scotland. They are also known as hearth spaniels or fireplace dogs as they were positioned on top of the mantelpiece.[1][2][3] Many other breeds were produced, particularly the greyhound, though the spaniels were especially popular and this is attributed to royalty favouring the King Charles Spaniel breed. In Scotland, they were colloquially termed Wally dugs[Note 1][4] and were manufactured in bulk at potteries in places such as Pollokshaws in Glasgow and Portobello near Edinburgh.[8][9]
Though the most popular, the dogs were only one of many types of Staffordshire figures; other animals and human figures of various kinds were also popular.
The spaniels were seated in pairs, decorated with a gold chain and locket, and with a creamy white base coat.[10] The Staffordshire spaniel was the quintessential Victorian bourgeois status-symbol ornament: no mantelpiece was complete without a pair of spaniels standing guard. Staffordshire dogs were also placed on the window sill. Staffordshire dogs are nowadays collectors' items.[11] Since the 1720s, spaniels had been produced by pottery factories in Staffordshire. The quality of the modeling and painting of the Staffordshire dogs may differ.[12] As the popularity of the figurines increased towards the end of the 19th century, the quality began to decline.[2] Thousands were manufactured but originals in good condition and in their correct pairs are now uncommon. The figures continued to be made until the 1920s and early models are of the better quality. However, reproductions were still being manufactured in 2009.[13]
The spaniels come in sizes from a little over a foot to a few inches high. They were all decorated by hand, that is why all the figurines are different.[11] The Staffordshire mantel dog's expression can be soft or fierce, deplorable or self-satisfied, inquisitive or pleased. The base coat is layered over with polka dots or brushed patches of rust, copper luster, or black. Disraeli spaniels feature painted curls on their foreheads; Jackson spaniels are entirely black. Some have glass eyes, some painted. The most frequent model features front legs moulded to the body; rarer models have one or two distinct front legs.
A less common group of dog figurines do have utilitarian purposes, serving also as spill vases, ring holders, banks, and jars. The mantelpiece figures came to be made in varying sizes, sometimes numbered 1 to 6 underneath, encouraging buyers to get sats ranked by size.
Children as young as seven or eight years were paid two shillings a week to paint the gold chains often included on the spaniels in the 1800s.[14]
Spaniel figures continue to be made. In the United States, the 1952 Supreme Court case F. W. Woolworth Co. v. Contemporary Arts, Inc. concerned copyright infringement regarding the design for a cocker spaniel figure.
Similar dog figures were made elsewhere – the early Staffordshire examples often imitated types they knew from Chinese export porcelain, and the Staffordshire types were exported to and eventually imitated by other English-speaking markets. But the mantelpiece pair as an iconic feature remained a British phenomenon.
Link: https://en.wikipedia.org/wiki/Staffordshire_dog_figurine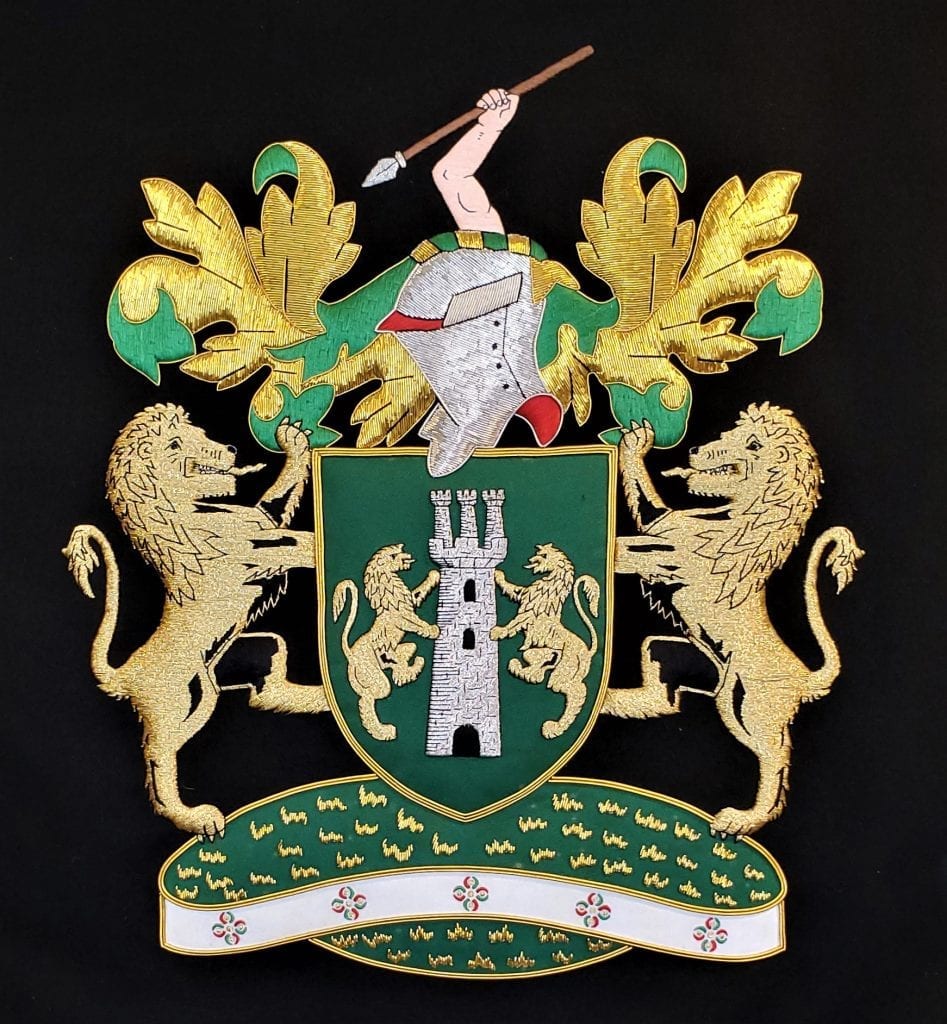 Pair of Staffordshire Style Ceramic Spaniels.
Provenance: From a wealthy Dallas Estate.
Condition: Near Mint.
Dimensions: Each is 10.5″ Tall, 9.5″ Wide and 7.5″ Deep.
SALE PRICE NOW: $380(Pair)