P. Ovidii Nasonis Opera, Casti Pub by Ioannem Heruagium Basileae 1537.
PRESENTING AN EXTREMELY RARE  EDITION hardback copy of P. Ovidii Nasonis Opera, Casti, gata ad fidem ueterum exemplariorum a Ioanne Sichardo, Accesserunt Omniumaeditionibus, qux in bune diem extant, fragmenta quaedam Ovidii halternus non in fa, ex libres qui periere Epigrammd ion, et carmen eruditifima ad Pifonem. Basileae Apudada mum Petrium  Menfe Martio, Anno M.D.XXVII (1537).
Published by Ioannem Heruagium Basileae in 1537.
This EXTREMELY RARE book is in EXCELLENT condition for its age. Some very minor losses on the edges of the spine and cover, but otherwise extremely GOOD. The text is almost perfect despite some minor foxing. AMAZING for it's age.
We are of the opinion that this book was rebound in the early to mid- 19th Century. .
Leather edges and pebble board jacket with gilt edge and gold lettering.
AS AN ADDED BONUS, the Book comes with a Label belonging to it's original owner, Major William Alexander Obenchain, a Civil War personality who served on General Robert E. Lee's Staff, and after the War became President of Ogden College in Bowling Green, KY (now the University of Western Kentucky).
As an ADDED BONUS, the BOOK is also signed by Major Obenchain.
As an ADDED, ADDED BONUS, the Book is signed by previous owners to Major Obenchain on the title page what appears to be "Connolly Bambergenfis". We have 'no doubt' that this is a 17th or 18th Century signature.
This book was part of the extensive private collection of the Calvert Hall/Obenchain/Godwin/McMillan Collection formerly of Bowling Green, KY and later, Highland Park, Texas.
AS you can see from the history of this Collection (see our PDF) the family have very strong ancestral ties to the States of Virginia, Kentucky and Texas.
YOU WILL NOT FIND THIS BOOK ANYWHERE ELSE!!
THIS IS A SIGNIFICANT & HISTORICAL BOOK!!
What makes this Book

SPECIAL

is :-
(1) It is a VERY, VERY RARE Antiquarian Book from 1537 and
(2) it is in excellent condition, and
(3) it was owned in the 19th Century by a prominent Civil War personality (Major W.A. Obenchain)
Publius Ovidius Naso (Classical Latin: [ˈpu:.blɪ.ʊs ɔˈwɪ.dɪ.ʊs ˈnaː.soː]; 20 March 43 BC – AD 17/18), known as Ovid(/ˈɒvɪd/)[1] in the English-speaking world, was a Roman poet who lived during the reign of Augustus. He was a contemporary of the older Virgil and Horace, with whom he is often ranked as one of the three canonical poets of Latin literature. The Imperial scholar Quintilian considered him the last of the Latin love elegists.[2] He enjoyed enormous popularity, but, in one of the mysteries of literary history, was sent by Augustus into exile in a remote province on the Black Sea, where he remained until his death. Ovid himself attributes his exile to carmen et error, "a poem and a mistake", but his discretion in discussing the causes has resulted in much speculation among scholars.
The first major Roman poet to begin his career during the reign of Augustus,[3] Ovid is today best known for the Metamorphoses, a 15-book continuous mythological narrative written in the meter of epic, and for works in elegiac couplets such as Ars Amatoria ("The Art of Love") and Fasti. His poetry was much imitated during Late Antiquity and the Middle Ages, and greatly influenced Western art and literature. The Metamorphoses remains one of the most important sources of classical mythology.
Link: https://en.wikipedia.org/wiki/Ovid
IF YOU COLLECT RARE ANTIQUARIAN BOOKS 

….
THEN THIS BOOK IS ESSENTIAL FOR YOUR COLLECTION!!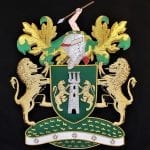 P. Ovidii Nasonis Opera, Casti Pub by Ioannem Heruagium Basileae 1537.
Dimensions: 6″ x 4″
Condition: Very Good ORIGINAL CONDITION.
SOLD