Morris Henry Hobbs Etching of Chicago
PRESENTING a  VERY RARE ORIGINAL etching by Morris Henry Hobbs of the City of Chicago with a view from Lake Michigan from circa 1930.
This etching is badly in need of some professional restoration. It is badly 'foxed' from dampness or water damage …. but a good paper restorer would restore this quite easily and have it like new. The etching is still very clear and there are no tears or creases. The price reflects the damage.
It is an original etching and not a print. There is no plate mark or number and it has been signed twice in the lower right hand corner by M.H. Hobbs….one signature on the etching and an original pencil signature underneath on the matting.
We cannot find another etching or even copy of this print online…..it is EXTREMELY RARE.
To the 'right Collector' the small investment in restoration is nothing compared to the RARITY and value of this piece. We have priced this etching to reflect the condition and cost of restoration.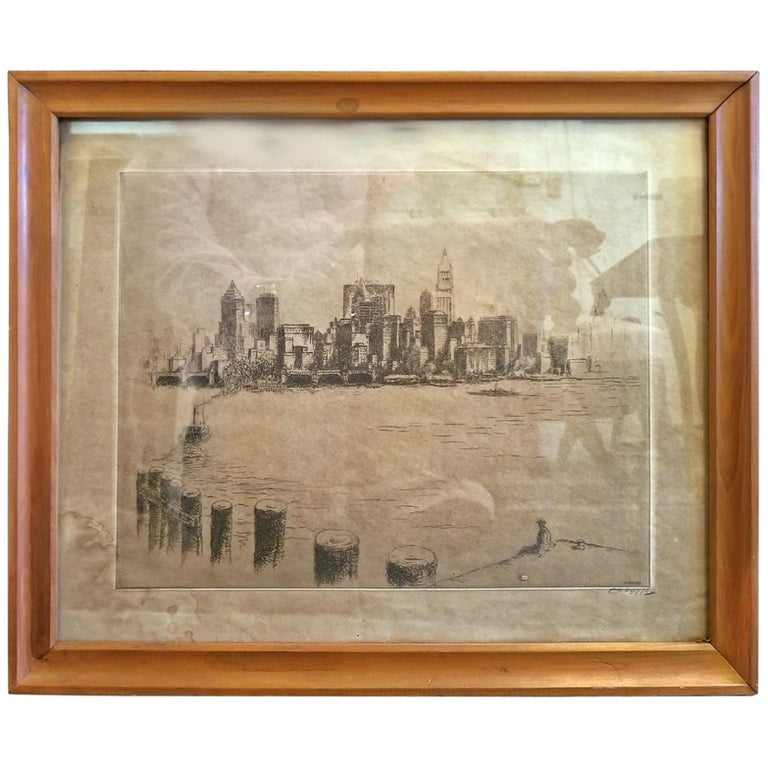 Name: Morris Henry Hobbs:
Born: Rockford, Illinois 1892
Died: New Orleans, Louisiana 1967
Nationality: American
Link: https://americanart.si.edu/artist/morris-henry-hobbs-2253
"Morris Henry Hobbs (1892-1967) Morris Henry Hobbs, etcher, engraver, painter, illustrator, woodcarver and teacher was born on January 1, 1892 in Rockford, Illinois. He studied drawing at the Art Institute of Chicago and with Ernest Dean, Clarissa Keith, and Ralph Fletcher Seymour, primarily illustrators. He later branched off into the study of architecture, and was identified with that profession for many years. In 1921, several years after his return from overseas service with the American Expeditionary Force at which time he lost his hearing, he moved to Toledo, Ohio, and practiced architecture. He traveled throughout Europe, including, England, Belgium and France to draw, paint, and study etching. One of his small prints was accepted for an exhibition by the Brooklyn Society of Etchers, and his work began to appear here and there in exhibitions. This was in 1926 and 1927, when his first etchings and dry points were made. In 1930, after he returned to Europe to work and study, he made a series of plates of England, France and Brittany. Early in his career he had the rare distinction of having two one-man exhibitions of his works at the Smithsonian Institution. Later, Hobbs was drawn to New Orleans in 1938 with plans for creating a series of small prints of the French Quarter and many of the historic buildings scattered thoughout the old section of New Orleans. He lived there for the remainder of his life. He formed the Society of Louisiana Etchers and was it's first president. Two summers were spent as a resident colonist at the McDowell Art Colony, Peterborough, N.H., where he started a series of etchings of the old Beacon Hill district of Boston. During his career, Morris Hobbs was known to have created many Architectural drawings; he painted nudes, landscapes and still life works, and made wood carvings. He worked in oil, watercolor, and pencil, as well as, being a master etcher and engraver. Hobbs taught etching for many years and many of his students went on to become famous artists in their own right. He was a member of the New Orleans Art League (president emeritus), the Louisiana Society of Etchers, the Society of American Graphic Artist, the Society of American Etchers, the Chicago Society of Etchers, the Cleveland Print Makers, the Toledo Print Club, the National Arts Club, the Evanston Art Club, the Allied Illinois Society of Fine Art, the California Society of Etchers, the Southern Printmakers, the Northwest Printmakers, the Southern States Art League, the Boston Society of Independent Artists, the Mississippi Art Association, the MacDowell Art Colony, and the North Shore Art League. Hobbs exhibited at the Smithsonian Institution, Evanston Art Club 1930 (prize), the Toledo Museum of Art 1930 (prize), 1931 (prize), 1936 (prize), the Southern States Art League (1941 (prize), and the Louisiana State Museum Memorial Exhibition 1986. His work is represented in many public and private collections, including, the Ogden Museum of Southern Art, University of New Orleans, The Smithsonian American Art Museum, Washington, D.C., the Art Institute of Chicago, the Carnegie Institute, the New York Public Library, the Toledo Museum of Art, the Library of Congress, the Historic New Orleans Collection, the Mobile Museum of Art, The University of Michigan Museum of Art, The Washington County Museum of Fine Arts, and the Fine Arts Museum of San Francisco. Hobbs died in New Orleans, Louisiana, after a brief illness, on January 24, 1967."
THIS IS A VERY RARE ETCHING!!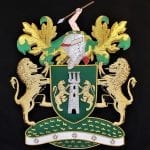 Morris Henry Hobbs Etching of Chicago
Provenance: From a Private Dallas Collection.
The original owner was a stockbroker based in Dallas, TX in the 1920's and 30's. He conducted most of his stock market trade through the Chicago Markets. We believe that he purchased this etching in Chicago at that time. It has remained in family ownership ever since.
Dimensions: 17.75″ x 14.5″
Condition: In original frame. See condition above.
SALE PRICE NOW: $600