WE HAVE THE DISTINCT PLEASURE TO PRESENT TO YOU a Monumental Bronze and Floral Crystal Chandelier with AMAZING Provenance.
FROM THE FOYER OF THE REGENCY BALLROOM OF THE FAIRMONT HOTEL IN DALLAS, TX – ONE OF THE MOST ICONIC HOTELS IN DALLAS
This is a 'one-off' unique piece !
These is also an HISTORIC CHANDELIER !
It is a flush mount chandelier and is around 2 feet tall and 5 feet wide (diameter).
Made of bronze and crystal bead swags and crystal drops. Each string of beaded crystal swags are hung and draped from the inside of the center bowl to the outside central ring. Central mirrored section to reflect the light with a hanging bronze flower with crystal droplets and a large crystal ball finial. The central crystal swag is surrounded by flowing bronze leafs or flowers extending outwards dotted profusely with large crystal drops. Circular in shape.
The central section has around 8 – 10 bulbs (to be confirmed) and the ends of the bronze flowers/leafs are tipped with smaller bulbs (circa 30).
When hung and illuminated this is SIMPLY STUNNING and a REAL STATEMENT PIECE !
Made in the 1960's – Mid-Century in the Deco Style.
If this were marked by the maker it would carry a 6 figure price tag.
Monumental Bronze and Floral Crystal Chandelier
---
THE FAIRMONT HOTEL:
Hotel History
Originally opened in 1969, Fairmont Dallas became the luxury Dallas destination overnight, in what many considered the country's most exciting and dynamic city. The downtown hotel was a dramatic addition to the Dallas Skyline and was dubbed the city's finest hotel.
Often called "the Arts District Hotel," Fairmont Dallas remains at the center of downtown Dallas' many unique attractions including The Dallas Museum of Art, I.M. Pei-designed Meyerson Symphony Hall, AT&T Performing Arts Center, Dallas World Aquarium, West End Historic District, Nasher Sculpture Center and American Airlines Center (home of the Dallas Stars and Dallas Mavericks) – all located within blocks of the hotel.
Entertainment is an integral part of the Fairmont Hotels & Resorts tradition. Since its inception, Fairmont Dallas, Texas hotel has hosted many of the city's most important social, charitable, civic and business events during its forty-one year history and the famed Venetian Room has showcased many of the world's most beloved entertainers.
Fairmont Dallas Grand Opening
Fairmont Dallas set the new standard for excellence in accommodations, service, fine dining and world-class entertainment when it opened in 1969, and has been the source of countless memories over the years. Fairmont Dallas immediately set the new standard of luxury for hotels in the city, and indeed the nation. Hailed by local critics, the hotel was not only opulent, but innovative as well. Among the hotel's unique features were eleven kitchens–one dedicated exclusively to room service; individually styled guest rooms; and an in-house bakery that provided guests with baked goods, literally hot out of the oven.
A formal gala opening was scheduled for Fairmont Dallas for May 7, 1969. In April a water main on the mezzanine level burst, sending three to four inches of water onto the floor and through the ceiling of the lobby, ruining several thousand feet of carpeting. The hotel recovered, however, for the lavish May, 7 official opening. Labeled Le Bal de Dallas, the glitzy party doubled as a benefit for the Dallas Civic Opera. The Arabian Nights-themed party was over the top, even by Dallas standards. Guests were greeted by six uniformed trumpeters and the lobby was the setting for seventy-five violinists, living exotic fish in aquarium displays, Persian dancers and a shower of golden confetti and caviar by the ton. Dinner courses were served in parade form, beginning with the soup course, led by two live gold and silver-clad baby elephants, each carrying a costumed woman tossing fake gold nuggets, pulled from cauldrons of steaming dry ice, to the party guests. Following dessert, the elephants reappeared, drawing a coach carrying singer Robert Goulet, who serenaded the guests. Thus began the long tradition of glamorous galas at Fairmont Dallas.

The Regency Ballroom, the largest in the state at the time, was illuminated by 15 crystal chandeliers, each seven feet in diameter.
It was the largest of more than 22 meeting rooms, enabling Fairmont Dallas to accommodate every conceivable event. The lobby welcomed guests with black marble walls, adorned with bronze mirrors, a three-story ceiling from which hung three massive chandeliers, copper planters from Turkey and a tapestry incorporating the iconic Fairmont "F" custom made in a California monastery. A raised dais served as a champagne bar from brunch until midnight. Shops lining corridors off of the lobby included Neiman-Marcus and Corrigan's Jewelers.
The Pyramid Room, Fairmont Dallas' intimate French restaurant, was hailed by local critics, one of whom stated, "The very atmosphere promises exciting dining and the promise is fulfilled." The elegant dining room featured a rosewood foyer and a bronze and copper sculpture studded with semi-precious stones and was centered under a namesake inverted pyramid shaped light fixture weighing six tons.
The "gem" of the new hotel was the renowned Venetian Room, a recreation of the world famous show room of its sister hotel in San Francisco. The opulent venue which boasted fourteen seven-foot tall chandeliers, gold moldings and specially commissioned murals painted in Italy, quickly became a legendary setting for intimate, cabaret-style entertainment by A-list performers and was considered by many as the premier venue between New York and Las Vegas.
The Venetian Room opened in April 1969 with singer Jack Jones, and the list of high-caliber singers, comedians and Hollywood and television stars that followed him form a Who's-Who of the entertainment world of the last forty years. It would likely be easier to name the stars who didn't appear at the Venetian Room, but a very short list who did include Carol Channing, Eartha Kitt, Ella Fitzgerald, Mel Torme, Ike & Tina Turner, Jerry Lewis, Peggy Lee, Bernadette Peters, Lou Rawls, Johnny Mathis, Marlene Dietrich and Sonny and Cher. Many of these stars returned for repeat appearances over the years and Fairmont Dallas staff learned their likes and dislikes, and ensured that Ginger Rogers and Jose Feliciano each had a supply of their favorites on hand.
For over fifty years, Fairmont Dallas has been the setting for countless civic, social, cultural, convention and corporate events, but more importantly the setting for countless wonderful memories.
Link: https://www.fairmont.com/dallas/hotelhistory/?utm_referrer=direct%2Fnot%20provided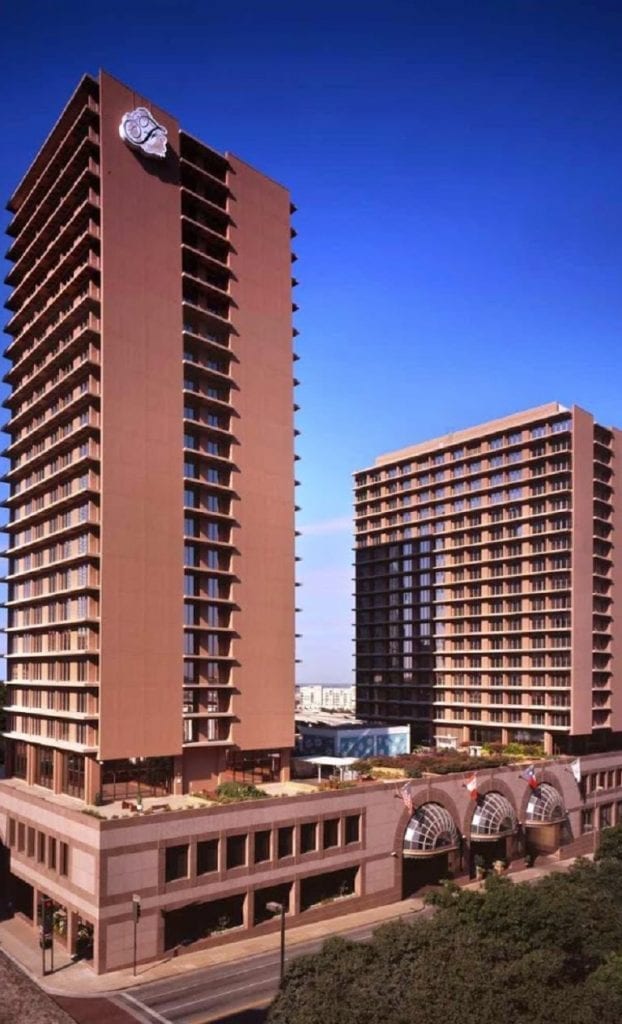 ---
IF YOU HAVE A FINE HOME THAT CAN ACCOMMODATE THIS, THEN YOU HAVE JUST STRUCK GOLD !
IF YOU ARE AN INTERIOR DESIGNER WHO HAS A MAJOR RESIDENTIAL OR COMMERCIAL PROJECT, THEN YOU HAVE ALSO STRUCK GOLD !
THIS IS A ONCE IN A LIFETIME OPPORTUNITY TO ACQUIRE SOMETHING OF SUCH HIGH QUALITY, WITH IMPECCABLE PROVENANCE AND A PIECE OF DALLAS AND TEXAS HISTORY !!
---
DO NOT HESITATE AS THIS WILL SELL VERY QUICKLY !!
THIS CHANDELIER 'TICKS ALL THE BOXES' FOR LOVERS OF ART DECO, LOVERS OF MID-CENTURY, LOVERS OF ALL THINGS DALLAS AND LOVERS OF QUALITY PROVENANCED PIECES IN THEIR HOME OR BUSINESS !
---
NOTE: CHECK OUT THE OTHER CHANDELIERS THAT WE HAVE FROM THE FAIRMONT HOTEL, ALSO IN THIS SECTION.
---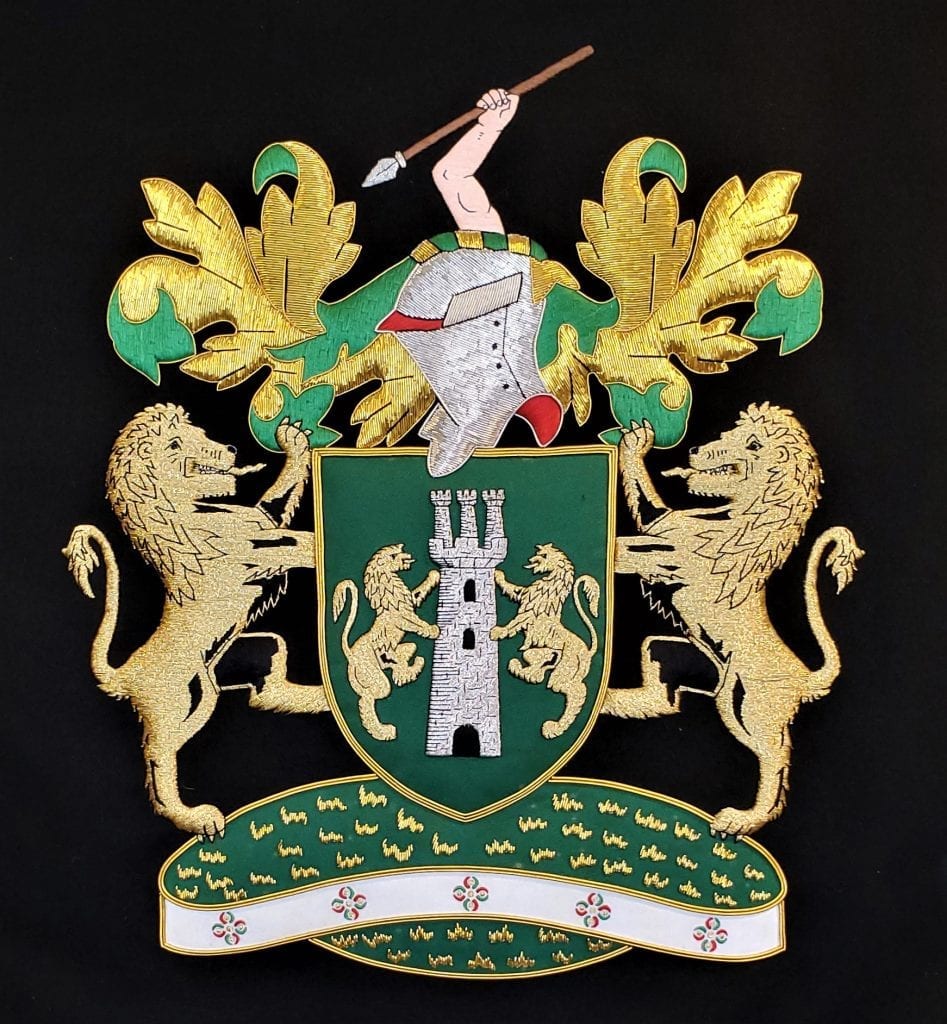 Monumental Bronze and Floral Crystal Chandelier.
PROVENANCE: From the Foyer of the Regency Ballroom of the Fairmont Hotel in Dallas, Texas.
Condition: Very Good.
Dimensions: Approx. 24″ x 60″ (exact dimensions to be confirmed)
SOLD
Monumental Bronze and Floral Crystal Chandelier