History of Chivalry in 2 Vols by Charles Mills 1825.
PRESENTING AN EXTREMELY RARE  FIRST EDITION hardback copy of The History of Chivalry or Knighthood and its times by Charles Mills Esq., Author of the History of the Crusades in Two Volumes, Printed for Longman, Hurst, Rees, Orme, Brown and Green, London MDCCCXXV – 1825.
These RARE books are in FAIR condition for their age….. some very minor 'knicks' and losses on the edges of the spine AND COVERS, SOME WATER MARKS ON COVERS AND ON FIRST FEW PAGES OF TEXT……but otherwise pretty GOOD. The text after the first couple of pages is almost perfect.
Brown LEATHER jacket with gold lettering.
AS AN ADDED BONUS…..the Book comes with a Label belonging to it's original owner, Major William Alexander Obenchain, a Civil War personality who served on General Robert E. Lee's Staff, and after the War became President of Ogden College in Bowling Green, KY (now the University of Western Kentucky).
Both Volumes are also signed by Major Obenchain and Volume 1 also has the name 'Smith' on the title page…presumably a prior owner to the Major.
This book was part of the extensive private collection of the Calvert Hall/Obenchain/Godwin/McMillan Collection formerly of Bowling Green, KY and later, Highland Park, Texas.
AS you can see from the history of this Collection (see our PDF) the family have very strong ancestral ties to the States of Virginia, Kentucky and Texas.
YOU WILL NOT FIND THIS BOOK ANYWHERE ELSE!!
What makes this Book

SPECIAL

is :-
(1) It is a RARE First Edition and
(2) it was owned (and signed) by a prominent Civil War personality (Major W.A. Obenchain)
IF YOU COLLECT ANTIQUARIAN BOOKS 

….
THEN THIS BOOK IS ESSENTIAL FOR YOUR COLLECTION!!
THIS BOOK SHOULD REALLY BE IN A MUSEUM!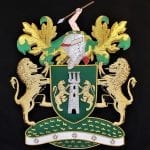 History of Chivalry in 2 Vols by Charles Mills 1825.
Provenance: Part of the Calvert Hall/Obenchain Collection.
Dimensions: Each Volume is 8.6″ x 5.8″
Condition: GOOD ORIGINAL CONDITION.
SALE PRICE NOW: $520