PRESENTING a FABULOUS and RARE Print, namely, "Hide and Seek" Pinto Print by Bev Doolittle.
SPOT THE PINTO !!!
A set of 24 scenes which spell 'Hide and Seek' but when you look more closely are made of brown and white Pinto horses against brown stone and snoe backgrounds.
An impressively clever technique !
"Horses are the center of the universe for me so you can imagine my delight when I came up with an idea on how to do 24 paintings of them . . . and to pose each one and give it a personality of its own."Paint horses were a natural choice for 'Hide and Seek' because of the way they lend themselves to camouflage. Besides, I wanted to celebrate the anniversary of 'Pintos.' Viewed separately, 23 of the 24 images are little paintings of pintos against a snow-and-rock background – a feeling reminiscent of the original 'Pintos.' Together, they spell out HIDE AND SEEK. Why only 23 pintos? What about the 24th painting? I thought it would be fun for people to try and find a pinto that isn't there!" (BEV DOOLITTLE).
Missing it's original backing which has been replaced with brown paper, so no numbering for the print, but we believe it is part of a limited edition release due to the professional matting, metal label and presentation.
In it's original golden oak frame and under glass.
---
Bev Doolittle (born February 10, 1947) is an American artist working mainly in watercolor paints. She creates paintings of the American West that feature themes of Native American life, wild animals, horses, and landscapes.
Doolittle attended college at the Art Center College of Design in Los Angeles, where she met her husband, Jay Doolittle.[3] The Doolittles, after a brief career as graphic artists, became "traveling artists" and drove in a motorhome around the American southwest, painting scenes of the landscape as they went. It was during this period that Bev's expansive paintings of the American Western landscape and its wildlife began to develop and soon after, she began to portray Native Americans—often including them alongside animal themes.
Doolittle has become a popular artist in the United States, and her original paintings and prints are collected widely by those interested in the Western themes she portrays.[citation needed] Realistic Western art has conventionally been dominated by oil painting, and Doolittle was instrumental in bringing watercolors into the genre, and garnering respect for this medium from collectors of Western art.
Doolittle has also co-authored and illustrated several books. She has long been interested in the plight of Native Americans, wild animals, and ecological and environmental issues and her books—like her paintings—focus on these issues.
A unique and distinctive aspect of her art is what she refers to as "a camouflage technique" in which certain details of her art can be seen in more than one way; for example, in "The Forest Has Eyes", the rocks and waterfalls seen close up appear as the faces of Native Americans when viewed from a distance. In "Mesa Ruins", close-up viewing appears to show the Mesa Verde Canyon Anasazi dwellings, although from a distance it gives an impression of the eye and nose of a Native American male. In "Shoshone Switchback", the snow-filled meadow in which horseback riders are crossing appears from farther away to be the shape of a running horse. Perhaps her most impressive work is a twenty-four set collection of paintings of dark-brown horses set against light brown rocks and white snow, which from a distance and arranged in order spells out the words "Hide and Seek"
Link: https://en.wikipedia.org/wiki/Bev_Doolittle
---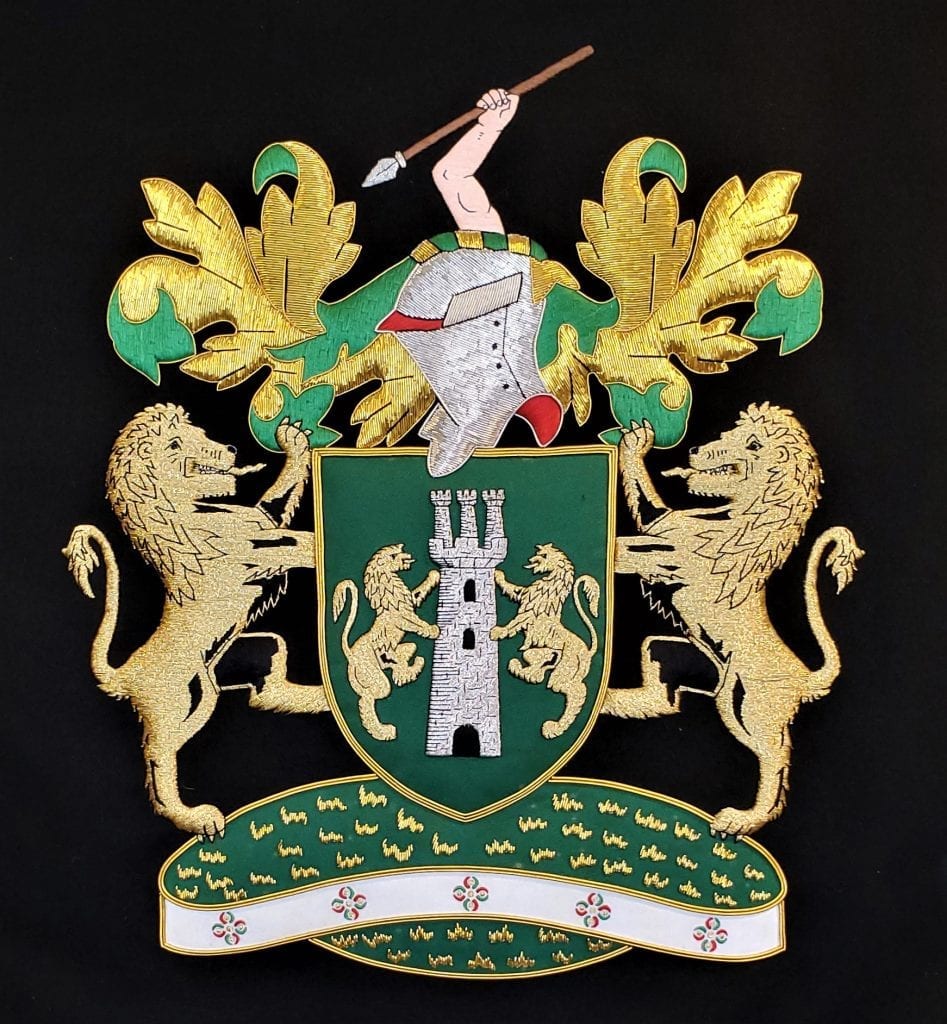 Hide and Seek Pinto Print by Bev Doolittle.
Provenance: From a Dallas Private Collection.
Condition: Very Good.
Dimensions: In Frame: 27″ Wide, 23″ Tall and 2″ Deep
PRICE Now: $320