Framed Dog Prints by Cecil Aldin x11.
A BEAUTIFUL SET OF 11 …..yes….11……….. Framed Dog Prints.
Framed Dog Prints by Cecil Aldin x11
These framed dog prints are from the original illustrations by Cecil Aldin (a well known British illustrator and artist) for the Book…'Sleeping Partners: Cracker and Micky: Two Dogs with a Tale".
Cracker was a very special dog. The white bull terrier, with a black spot over one eye and a comical disposition, became the most famous canine model in the world because he was the bosom pal and leading professional model of illustrator Cecil Aldin. In Aldin's studio, Cracker found his book companion and "straight man" Micky, who was generally to be seen stretched on a sofa. The pair became sleeping partners; hence the title of a series of drawings made over many months and published in book form, with no text except for one-word captions under each picture.
Each is beautifully framed in a black wooden faced frame, beautifully matted and presented in IMPECCABLE condition !!!
Each print illustrates Cracker and Micky in various sleeping poses with an individual caption for each scene.
Supplication…………… Reconciliation………….. Toleration…………. Excommunication …………… Resignation…………. Separation……………… Execration………………… D-Nation……………….. Trepidation ………………….. Elevation. AND as a BONUS … A photo of Aldin with Cracker and Micky.
Each print is signed by Cecil Aldin.
Definitely one for the DOG LOVERS !!!!
CECIL ALDIN: "Cecil Charles Windsor Aldin, (28 April 1870 – 6 January 1935), was a British artist and illustrator best known for his paintings and sketches of animals, sports, and rural life. Aldin executed village scenes and rural buildings in chalk, pencil and also wash sketching. He was an enthusiastic sportsman and a Master of Fox Hounds, and many of his pictures illustrated hunting.[1] Aldin's early influences included Randolph Caldecott and John Leech.
Born in Slough, Aldin was educated at Eastbourne College and Solihull Grammar School. Cecil Aldin's father, a builder, was a keen amateur artist so Cecil started drawing at a very young age. He studied art at the studio of Albert Joseph Moore in Kensington but, unhappy with the teaching methods Aldin left after a month to study animal anatomy at the National Art Training School in South Kensington. After this he attended a summer school run by the animal painter and teacher, William Frank Calderon at Midhurst, Sussex. Aldin left when he developed rheumatic fever but shortly afterwards he sold his first drawing, which appeared in The Building News of 12 September 1890.[2] This was followed by a dog show picture purchased by the The Graphic in 1891.[1] He rented a studio in Chelsea and in 1892 he began a long association with The Illustrated London News. Whilst at Chelsea he would often draw in the London Zoological Gardens and an early work on a tiger in the zoo which was drawn from life was found to be a copyright of a photograph by Gambier Bolton. He also did some work for Cadburys advertising. Aldin was commissioned by The Pall Mall Budget in 1894 to illustrate the serialisation of stories from Rudyard Kipling's The Second Jungle Book."
Link: https://en.wikipedia.org/wiki/Cecil_Aldin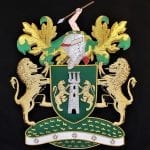 Framed Dog Prints by Cecil Aldin.
Framed Dog Prints 'Sleeping Partners' Cracker & Micky by Cecil Aldin.
Dimensions: Each : 13.5″ x 11.5″
Condition:Excellent
SOLD