Fortune Cover November 1939
PRESENTING a FABULOUS Original Art Deco Fortune Magazine Cover November 1939.
The cover of Fortune Magazine for November 1939, framed and matted.
This is an ORIGINAL COVER, not a re-print or copy. It is the cover of an actual 1939 Fortune Magazine and we can 100% certify it's authenticity. We have attached a COA on the back of the frame.
The frame is modern. It is a fblack poster frame with acid free purple beveled matting. Perspex front. The frame and matting are perfect for the style of the era.
The cover print is an Art Deco depiction of an industrial scene of a railway line in CLASSIC ART DECO STYLE !
The cover is in near mint condition as can be seen from the photos.
This is one of the more iconic covers of Fortune !
Pained by 'Chance' as noted and signed on the bottom right.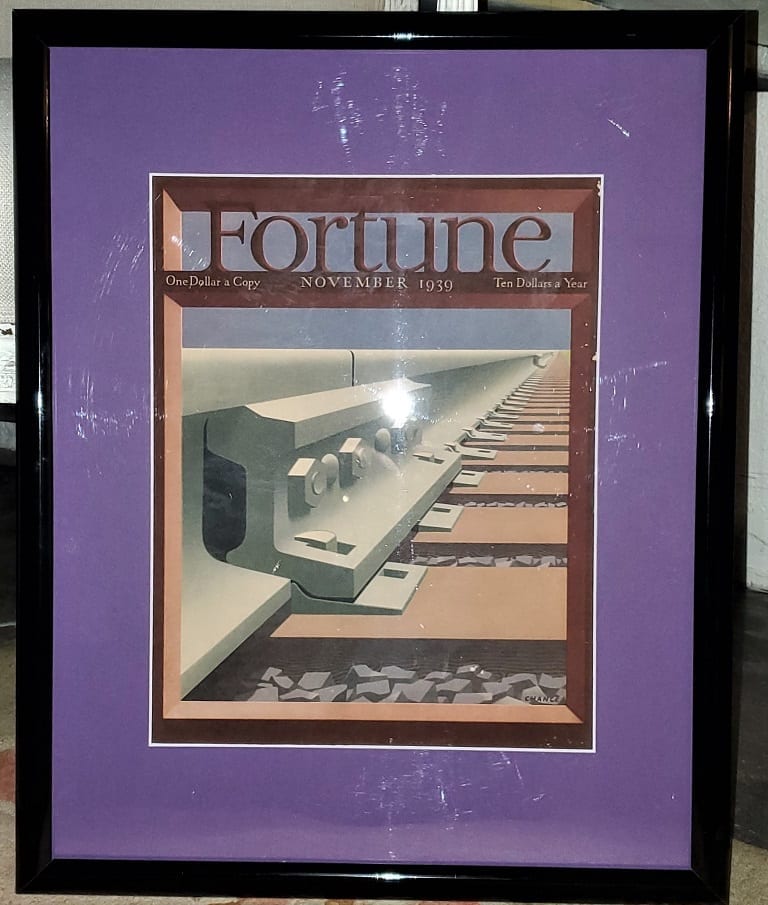 Fortune was founded by The Atlantic Monthly Company co-founder Henry Luce in 1929 as "the Ideal Super-Class Magazine", a "distinguished and de luxe" publication "vividly portraying, interpreting and recording the Industrial Civilization".[4] Briton Hadden, Luce's business partner, was not enthusiastic about the idea – which Luce originally thought to title Power – but Luce went forward with it after Hadden's sudden death on February 27, 1929.[5]
In late October 1929, the Wall Street Crash of 1929 occurred, marking the onset of the Great Depression. In a memo to the Time Inc. board in November 1929, Luce wrote: "We will not be over-optimistic. We will recognize that this business slump may last as long as an entire year."[6] The publication made its official debut in February 1930. Its editor was Luce, managing editor Parker Lloyd-Smith, and art director Thomas Maitland Cleland.[7] Single copies of the first issue cost US$1 ($15.3 in 2019).[6] An urban legend says that Cleland mocked up the cover of the first issue with the $1 price because no one had yet decided how much to charge; the magazine was printed before anyone realized it, and when people saw it for sale, they thought that the magazine must really have worthwhile content. In fact, there were 30,000 subscribers who had already signed up to receive that initial 184-page issue. By 1937, the number of subscribers had grown to 460,000, and the magazine had turned half million dollars in annual profit.[8]
At a time when business publications were little more than numbers and statistics printed in black and white, Fortune was an oversized 11″×14″, using creamy heavy paper, and art on a cover printed by a special process.[9] Fortune was also noted for its photography, featuring the work of Margaret Bourke-White, Ansel Adams, and others. Walker Evans served as its photography editor from 1945 to 1965.
During the Great Depression, the magazine developed a reputation for its social conscience, for Walker Evans and Margaret Bourke-White's color photographs, and for a team of writers including James Agee, Archibald MacLeish, John Kenneth Galbraith, and Alfred Kazin, hired specifically for their writing abilities. The magazine became an important leg of Luce's media empire;[citation needed] after the successful launch of Time in 1923 and Fortune in 1930, Luce went on to launch Life in 1936 and Sports Illustrated in 1954.
From its launch in 1930 to 1978, Fortune was published monthly. In January 1978, it began publishing biweekly. In October 2009, citing declining advertising revenue and circulation, Fortune began publishing every three weeks.[10][11] As of 2018, Fortune is published 14 times a year.
Link: https://en.wikipedia.org/wiki/Fortune_(magazine)
---
Art Deco, sometimes referred to as Deco, is a style of visual arts, architecture and design that first appeared in France just before World War I.[1] Art Deco influenced the design of buildings, furniture, jewelry, fashion, cars, movie theatres, trains, ocean liners, and everyday objects such as radios and vacuum cleaners.[2] It took its name, short for Arts Décoratifs, from the Exposition internationale des arts décoratifs et industriels modernes (International Exhibition of Modern Decorative and Industrial Arts) held in Paris in 1925.[3] It combined modern styles with fine craftsmanship and rich materials. During its heyday, Art Deco represented luxury, glamour, exuberance, and faith in social and technological progress.
Art Deco was a pastiche of many different styles, sometimes contradictory, united by a desire to be modern. From its outset, Art Deco was influenced by the bold geometric forms of Cubism and the Vienna Secession; the bright colors of Fauvism and of the Ballets Russes; the updated craftsmanship of the furniture of the eras of Louis Philippe I and Louis XVI; and the exotic styles of China and Japan, India, Persia, ancient Egypt and Maya art. It featured rare and expensive materials, such as ebony and ivory, and exquisite craftsmanship. The Chrysler Building and other skyscrapers of New York built during the 1920s and 1930s are monuments of the Art Deco style.
In the 1930s, during the Great Depression, Art Deco became more subdued. New materials arrived, including chrome plating, stainless steel, and plastic. A sleeker form of the style, called Streamline Moderne, appeared in the 1930s; it featured curving forms and smooth, polished surfaces.[4] Art Deco is one of the first truly international styles, but its dominance ended with the beginning of World War II and the rise of the strictly functional and unadorned styles of modern architecture and the International Style of architecture that followed.
Link: https://en.wikipedia.org/wiki/Art_Deco
---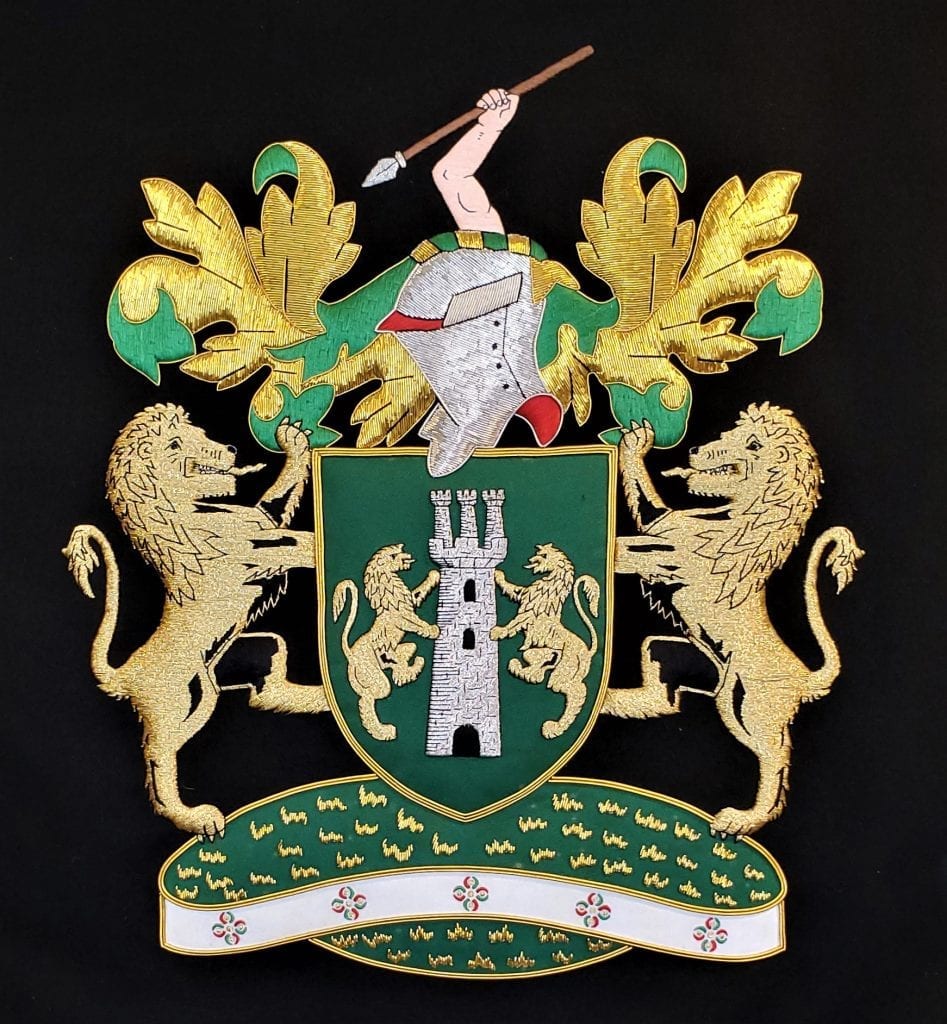 Art Deco Fortune Magazine Cover November 1939.
Provenance: From a Wealthy Dallas Estate.
Condition: Good. Some losses.
Dimensions: In Frame: 23.75″ Tall, 19.75″ Wide and 0.75″ Deep
PRICE Now: $325
Fortune Cover November 1939