Fortune Cover March 1940
PRESENTING a FABULOUS Original Art Deco Fortune Magazine Cover March 1940.
The cover of Fortune Magazine for March 1940, framed and matted.
This is an ORIGINAL COVER, not a re-print or copy. It is the cover of an actual 1940 Fortune Magazine and we can 100% certify it's authenticity. We have attached a COA on the back of the frame.
The frame is modern. It is a black poster frame with acid free cream beveled matting. Perspex front. The frame and matting are perfect for the style of the era.
The cover print is an Art Deco depiction of an industrial scene of pipework and valves with an architectural scene in the background in CLASSIC ART DECO STYLE !
The cover is in near mint condition as can be seen from the photos.
This is one of the more iconic covers of Fortune !
Illustrated by 'Fred Chance (and Piranesi)'.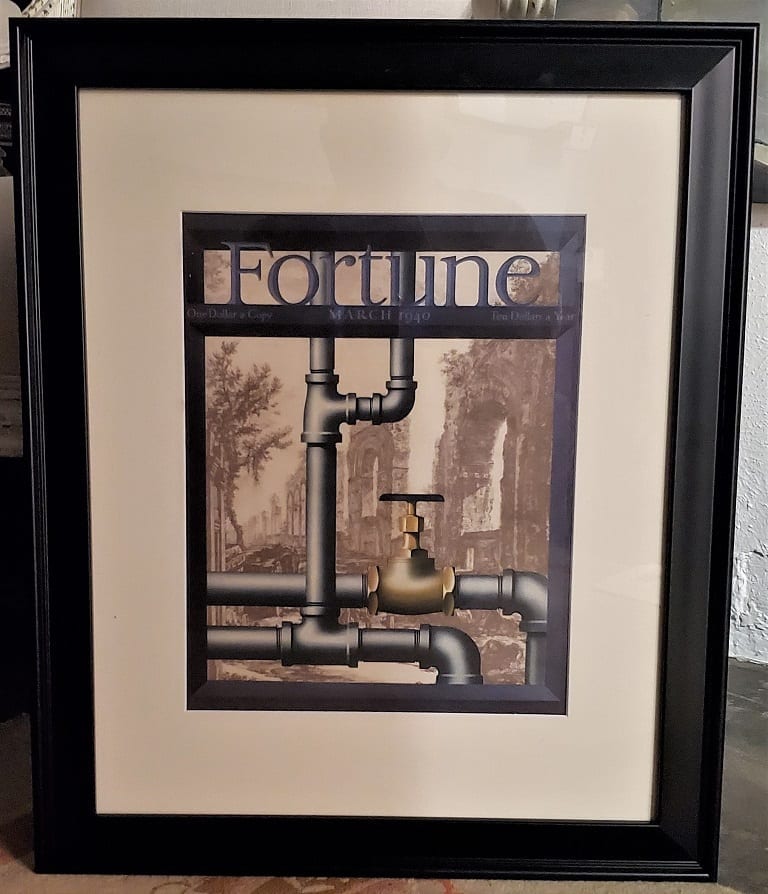 Fred Chance was active in the field of illustration for over fifty years in Philadelphia and New York. He created covers for Vogue magazine in the early 1930s and was still active in magazine cover work in the late 1980s. He was a good friend of George Withers, who did illustrations for the Saturday Evening Post, Collier's, Redbook, Blue Book, Good Housekeeping and The New York Times.
Link: https://en.wikipedia.org/wiki/Fred_Chance
Giovanni Battista (or Giambattista) Piranesi (Italian pronunciation: [dʒoˈvanni batˈtista piraˈneːzi; -eːsi]; also known as simply Piranesi; 4 October 1720 – 9 November 1778) was an ItalianClassical archaeologist, architect, and artist, famous for his etchings of Rome and of fictitious and atmospheric "prisons" (Le Carceri d'Invenzione). He was the father of Francesco Piranesi and Laura Piranesi.
Piranesi was born in Venice, in the parish of S. Moisè where he was baptised. His father was a stonemason. His brother Andrea introduced him to Latin literature and ancient Greco-Roman civilization, and later he was apprenticed under his uncle, Matteo Lucchesi, who was a leading architect in Magistrato delle Acque, the state organization responsible for engineering and restoring historical buildings.
From 1740, he had an opportunity to work in Rome as a draughtsman for Marco Foscarini, the Venetian ambassador of the new Pope Benedict XIV. He resided in the Palazzo Venezia and studied under Giuseppe Vasi, who introduced him to the art of etching and engraving of the city and its monuments. Giuseppe Vasi found Piranesi's talent was much greater than that of a mere engraver. According to Legrand, Vasi told Piranesi that "you are too much of a painter, my friend, to be an engraver."The Round Tower, etching
After his studies with Vasi, he collaborated with pupils of the French Academy in Rome to produce a series of vedute (views) of the city; his first work was Prima parte di Architettura e Prospettive (1743), followed in 1745 by Varie Vedute di Roma Antica e Moderna.
From 1743 to 1747 he was mainly in Venice where, according to some sources, he often visited Giovanni Battista Tiepolo, a leading artist in Venice. It was Tiepolo who expanded the restrictive conventions of reproductive, topographical and antiquarian engravings. He then returned to Rome, where he opened a workshop in Via del Corso. In 1748–1774 he created an important series of vedute of the city which established his fame. In the meantime Piranesi devoted himself to the measurement of many of the ancient buildings: this led to the publication of Le Antichità Romane de' tempo della prima Repubblica e dei primi imperatori ("Roman Antiquities of the Time of the First Republic and the First Emperors"). In 1761 he became a member of the Accademia di San Luca and opened a printing house of his own. In 1762 the Campo Marzio dell'antica Roma collection of engravings was printed.The Pyramid of Cestius, etching
The following year he was commissioned by Pope Clement XIII to restore the choir of San Giovanni in Laterano, but the work did not materialize. In 1764, one of the Pope's nephews, Cardinal Rezzonico, appointed him to start his only architectural work, the restoration of the church of Santa Maria del Priorato in the Villa of the Knights of Malta, on Rome's Aventine Hill. He combined Classical architectural elements, trophies and escutcheons with his own particular imaginative genius for the design of the facade of the church and the walls of the adjacent Piazza dei Cavalieri di Malta.
In 1767 he was made a knight of the Golden Spur, which enabled him to sign himself "Cav[aliere] Piranesi". In 1769 his publication of a series of ingenious and sometimes bizarre designs for chimneypieces, as well as an original range of furniture pieces, established his place as a versatile and resourceful designer.[1] In 1776 he created his best known work as a 'restorer' of ancient sculpture, the Piranesi Vase, and in 1777–78 he published Avanzi degli Edifici di Pesto (Remains of the Edifices of Paestum).
He died in Rome in 1778 after a long illness, and was buried in the church he had helped restore, Santa Maria del Priorato. His tomb was designed by Giuseppi Angelini.
Link: https://en.wikipedia.org/wiki/Giovanni_Battista_Piranesi
Fortune was founded by The Atlantic Monthly Company co-founder Henry Luce in 1929 as "the Ideal Super-Class Magazine", a "distinguished and de luxe" publication "vividly portraying, interpreting and recording the Industrial Civilization".[4] Briton Hadden, Luce's business partner, was not enthusiastic about the idea – which Luce originally thought to title Power – but Luce went forward with it after Hadden's sudden death on February 27, 1929.[5]
In late October 1929, the Wall Street Crash of 1929 occurred, marking the onset of the Great Depression. In a memo to the Time Inc. board in November 1929, Luce wrote: "We will not be over-optimistic. We will recognize that this business slump may last as long as an entire year."[6] The publication made its official debut in February 1930. Its editor was Luce, managing editor Parker Lloyd-Smith, and art director Thomas Maitland Cleland.[7] Single copies of the first issue cost US$1 ($15.3 in 2019).[6] An urban legend says that Cleland mocked up the cover of the first issue with the $1 price because no one had yet decided how much to charge; the magazine was printed before anyone realized it, and when people saw it for sale, they thought that the magazine must really have worthwhile content. In fact, there were 30,000 subscribers who had already signed up to receive that initial 184-page issue. By 1937, the number of subscribers had grown to 460,000, and the magazine had turned half million dollars in annual profit.[8]
At a time when business publications were little more than numbers and statistics printed in black and white, Fortune was an oversized 11″×14″, using creamy heavy paper, and art on a cover printed by a special process.[9] Fortune was also noted for its photography, featuring the work of Margaret Bourke-White, Ansel Adams, and others. Walker Evans served as its photography editor from 1945 to 1965.
During the Great Depression, the magazine developed a reputation for its social conscience, for Walker Evans and Margaret Bourke-White's color photographs, and for a team of writers including James Agee, Archibald MacLeish, John Kenneth Galbraith, and Alfred Kazin, hired specifically for their writing abilities. The magazine became an important leg of Luce's media empire;[citation needed] after the successful launch of Time in 1923 and Fortune in 1930, Luce went on to launch Life in 1936 and Sports Illustrated in 1954.
From its launch in 1930 to 1978, Fortune was published monthly. In January 1978, it began publishing biweekly. In October 2009, citing declining advertising revenue and circulation, Fortune began publishing every three weeks.[10][11] As of 2018, Fortune is published 14 times a year.
Link: https://en.wikipedia.org/wiki/Fortune_(magazine)
---
Art Deco, sometimes referred to as Deco, is a style of visual arts, architecture and design that first appeared in France just before World War I.[1] Art Deco influenced the design of buildings, furniture, jewelry, fashion, cars, movie theatres, trains, ocean liners, and everyday objects such as radios and vacuum cleaners.[2] It took its name, short for Arts Décoratifs, from the Exposition internationale des arts décoratifs et industriels modernes (International Exhibition of Modern Decorative and Industrial Arts) held in Paris in 1925.[3] It combined modern styles with fine craftsmanship and rich materials. During its heyday, Art Deco represented luxury, glamour, exuberance, and faith in social and technological progress.
Art Deco was a pastiche of many different styles, sometimes contradictory, united by a desire to be modern. From its outset, Art Deco was influenced by the bold geometric forms of Cubism and the Vienna Secession; the bright colors of Fauvism and of the Ballets Russes; the updated craftsmanship of the furniture of the eras of Louis Philippe I and Louis XVI; and the exotic styles of China and Japan, India, Persia, ancient Egypt and Maya art. It featured rare and expensive materials, such as ebony and ivory, and exquisite craftsmanship. The Chrysler Building and other skyscrapers of New York built during the 1920s and 1930s are monuments of the Art Deco style.
In the 1930s, during the Great Depression, Art Deco became more subdued. New materials arrived, including chrome plating, stainless steel, and plastic. A sleeker form of the style, called Streamline Moderne, appeared in the 1930s; it featured curving forms and smooth, polished surfaces.[4] Art Deco is one of the first truly international styles, but its dominance ended with the beginning of World War II and the rise of the strictly functional and unadorned styles of modern architecture and the International Style of architecture that followed.
Link: https://en.wikipedia.org/wiki/Art_Deco
---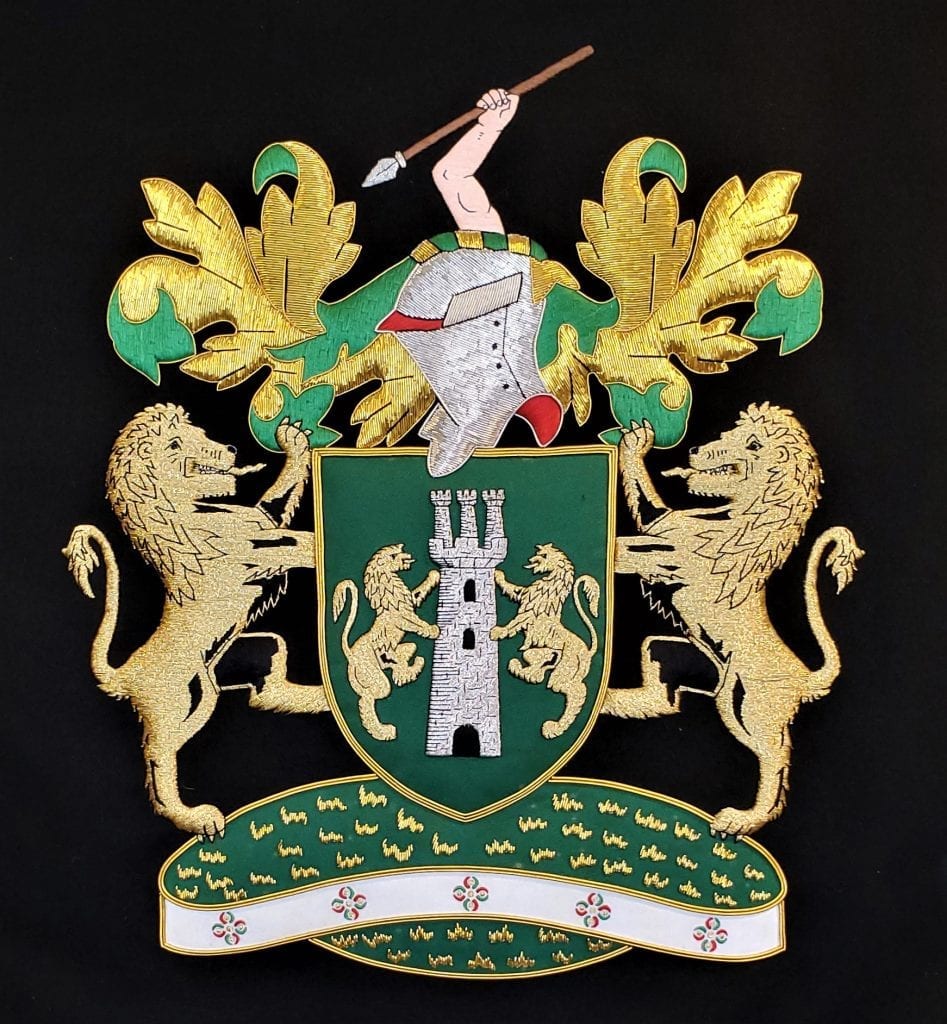 Art Deco Fortune Magazine Cover March 1940.
Provenance: From a Wealthy Dallas Estate.
Condition: Near Mint.
Dimensions: In Frame: 23.75″ Tall, 19.75″ Wide and 0.75″ Deep
PRICE Now: $385
Fortune Cover March 1940