PRESENTING a GORGEOUS piece of West African Tribal Art, namely an Early 20C Congolese Kuba Framed Textile.
Made in the Congo by the Kuba people (who are famous for their beautiful textiles) circa 1920.
The frame is more modern and probably from the 1970's/80's.
This textile was acquired by a private Dallas Collector whilst on safari to the Congo in the 1970's. He obviously had it framed upon his return and the choice of frame is perfect for this piece with it's mottled gold on an antiqued black background perfectly matching the gold and black colors of the textile, itself.
Framed under glass.
Check out the slightly larger and matching one of these also in our Inventory from the same Collection.
Kuba textiles are unique in the Democratic Republic of the Congo, formerly Zaire, for their elaboration and complexity of design and surface decoration. Most textiles are a variation on rectangular or square pieces of woven palm leaf fiber enhanced by geometric designs executed in linear embroidery and other stitches, which are cut to form pile surfaces resembling velvet. Women are responsible for transforming raffia cloth into various forms of textiles, including ceremonial skirts, 'velvet' tribute cloths, headdresses and basketry.
Kuba textiles demonstrate a taste for interrupting the expected line; they compose through juxtapositions of sharply differing units and abrupt shifts of form.
Mathematician Donald Crowe has analyzed, in particular, the two-dimensional designs of Benin, Yoruba and Kuba arts and has shown the extent of the Africans' explorations into the formal possibilities of geometric variation.[7][8] In their art, the Kuba have developed all the geometric possibilities of repetitive variations of border patterns, and of the seventeen ways that a design can be repetitively varied on a surface, the Kuba have exploited twelve. This exploration does not mean that they confine themselves to repetitive patterning in confronting a surface to be decorated.
The character of Kuba design accords with Robert Thompson's observation that some African music and art forms are enlivened by off-beat phrasing of accents, by breaking the expected continuum of surface, by staggering and suspending the pattern.[9] In textile design, the Africans of the Kasai-Sankuru region do not project a composition as an integrated repetition of elements. Until recently, Euro-American attitudes on this point were so fixed that they called a textile design a "repeat," and expected to find a unit of identical imagery repeated over the surface. This kind of integration is not typical for African two-dimensional arts.
Link: https://en.wikipedia.org/wiki/Kuba_textiles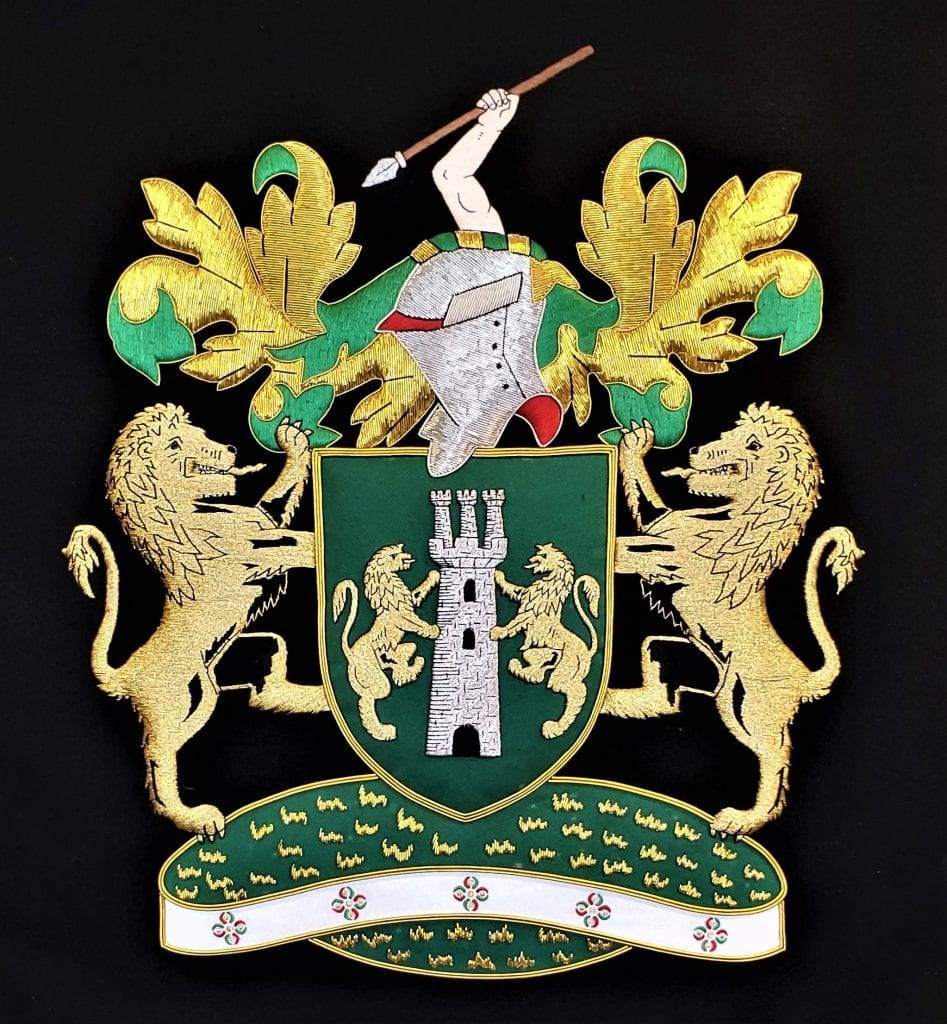 Early 20C Congolese Kuba Framed Textile.
Provenance: From a Private Dallas Collection.
Condition: Excellent.
Dimensions: 29″ Tall, 26″ Wide and 1″ Deep.
SALE PRICE NOW: $1,400