Deco Era Nena Claiborne Handpainted Mirror.
PRESENTING a  UNIQUE Art Deco Era hand-painted mirror by Dallas Interior Design Legend……..NENA CLAIBORNE…… circa 1930.
This Mirror is in SUPERB ORIGINAL CONDITION.
It was custom designed and hand-gilded and hand-painted by Nena Claiborne for the Obenchain Family when they built their Mansion on Armstrong Parkway in Highland Park, TX in 1929.
Ms. Claiborne was the interior designer for that home and she was also attached to Neiman Marcus.
She also did an original signed floral painting (still the family ownership) and she hand-painted a number of wooden ceiling panels (also in our Collection) and a number of hand-painted floral closet doors (also in our Collection).
The Mirror is made of solid wood, which has been hand-gilded and has hand painted flowers and poppies on top of the gilt work. The edges of the mirror have a hand-painted wave effect.
The piece has its ORIGINAL mirror glass and it is very heavy.
This is a STUNNING, UNIQUE  and EXTREMELY RARE
piece by Nena Claiborne with exceptional Provenance!!
NENA CLAIBORNE:
Nena Claiborne is regarded as a Dallas Legend in Interior Design.
She was one of the first Interior Designers in Dallas and she soon came to the attention of Neiman Marcus and became attached to them.
She specialized in the interior design of some of the earlier and finest homes in Highland Park, Dallas in the 1920's, 30's and 40's.
Many of the most prominent Dallas Interior Designers of today still name Nena Claiborne as one of their main influencer's in the business.
 THIS IS A UNIQUE MIRROR!!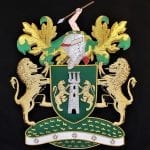 Deco Era Nena Claiborne Handpainted Mirror.
Provenance: From the Lida Calvert Hall/Obenchain Collection.
Calvert Hall,Obenchain,McMillan,Godwin Introduction PDF
Dimensions: 47.75″ Tall, 35.6″ wide and 1.75″ deep.
Condition: Superb original condition.
SALE PRICE NOW: $3,400