PRESENTING a BEAUTIFUL Art Deco Cambridge Green Wine Goblet.
Circa 1930 and American.
Made by the Cambridge Glass Co. of Cambridge, Ohio.
This a beautiful tall wine goblet with the top section a translucent apple green crystal, supported by a stem made of a transparent female nude on a circular base.
Mint condition with no chips or cracks.
FABULOUS COLLECTIBLE PIECE OF ART DECO DECADENCE !!!
NOTE: We have 3 of these in stock. This one, a ruby red one and an opaque purple one. The other 2 are listed separately.
Cambridge Glass was a manufacturer of glassware formed in 1873 in Cambridge, Ohio. The company produced a range of coloured glassware in the 1920s, initially with opaque shades, but moving on to transparent shades by the end of the decade. Unable to compete with mass-produced glassware, the company closed briefly in 1954, but was reopened in 1955. However, financial difficulties persisted, and, after several ownership changes, the factory closed for good in 1958. Imperial Glass Company purchased the Cambridge Glass molds two years later, and would use them for another three decades until that company went bankrupt in 1984.
The Cambridge Glass Company was chartered in 1873 by a group of Cambridge, Ohio businessmen. But it was not until 1899, when the site was purchased by the newly formed National Glass Company, that funds became available to start the construction of this new glass factory.
In 1901, The Cambridge Glass Company was organized by Myron Case, Casey Morris, Addison Thompson, Andy Herron and Fred Rosemond, who were owners of the National Glass Company of Pennsylvania.
During construction of the plant, Arthur J. Bennett, a native of England, was hired to manage this new factory. Having experience in the china and glass trades, Mr. Bennett proved to be an excellent choice for the position. He was funded to come to America by his father who was a plumber in England. (Nicole Orme) The first piece of glass, a three pint pitcher, was produced in May 1902.
A variety of heavy pressed patterns were produced during the next five years. Many of the patterns were of Mr. Bennett's own design. Sometime around 1903-1904 the company's first trademark came into being, the words "Near Cut" pressed into the glass.
Cambridge Glass soon became known worldwide for quality in both "crystal and colors, pressed and blown."[3]
In 1907, the National Glass Company experienced financial problems that ended in receivership for the company. By supplementing his life savings with local bank financing, Mr. Bennett was able to raise the necessary $500,000 to purchase the Cambridge Glass Company in its entirety.
The company continued to prosper under his ownership, and in 1910 was expanded to include an additional plant at nearby Byesville, Ohio – under the name of The Byesville Glass and Lamp Co. Many of the deep plate etched patterns were introduced during this time period, some of which were Marjorie and Betty, named after members of Mr. Bennett's family.
Through these early years, the company operated its own coal mines and consumed 50 tons daily producing raw gas to fire its melting pots. It also used natural gas produced from its own wells. The abundant supply of natural resources had been one of the main reasons for locating this factory in Ohio.
During 1916, things slowed quite a bit, and in 1917 it was decided to close the factory in Byesville and transfer those operations back to the Cambridge plant.
The 1920s were years of expansion and heralded a new trademark – the letter "C" enclosed within a triangle. Mr. Bennett decided to introduce a variety of opaque colored items into their line. With as many as 700 employees working three shifts a day, very strong lines of colored ware and complete dinner services were added to the production from the 56 pots of glass being used. Figural shapes became popular in the occasional pieces. The company was also producing a complete line of pharmaceutical items. It was said, "If it will sell, Cambridge will produce it."
The 1930s were perhaps the most prolific years of Cambridge development, with the new colors (Carmen, Royal Blue, Crown Tuscan and Heatherbloom), and new patterns, (#3400 line, Caprice line, Statuesque stem line, Rose Point etching) being developed.
Link: https://en.wikipedia.org/wiki/Cambridge_Glass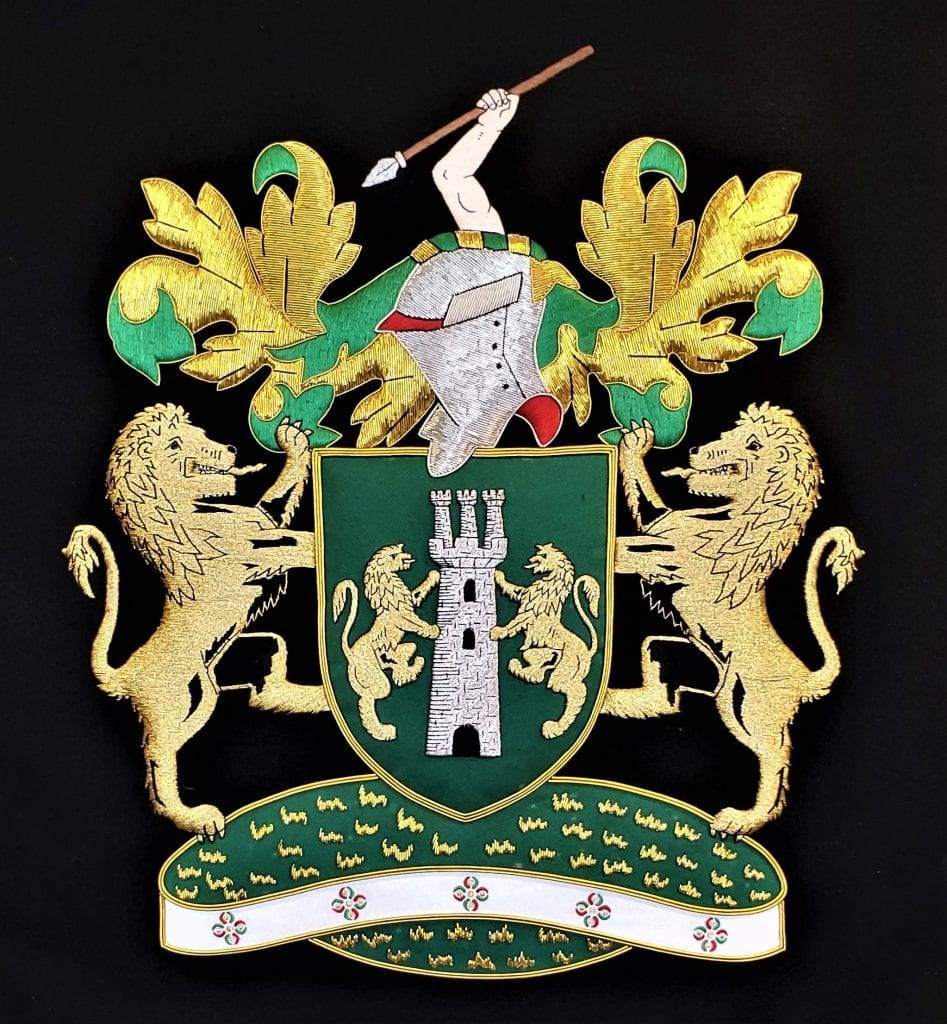 Art Deco Cambridge Green Wine Goblet.
Provenance: From a Private Dallas Collection.
Condition: Mint.
Dimensions: 7.75″ Tall with rim diameter of 2.8 " and Base diameter of 2.8″
SOLD