19C French Breakfast Console Buffet.
PRESENTING an ABSOLUTELY STUNNING 19th CENTURY French Louis XVI Style Breakfast Console Table/Buffet…..from Circa 1880.
19C French Breakfast Console Buffet

19C French Breakfast Console Buffet

19C French Breakfast Console Buffet

19C French Breakfast Console Buffet

19C French Breakfast Console Buffet

19C French Breakfast Console Buffet

19C French Breakfast Console Buffet

19C French Breakfast Console Buffet

19C French Breakfast Console Buffet

19C French Breakfast Console Buffet

19C French Breakfast Console Buffet

19C French Breakfast Console Buffet

19C French Breakfast Console Buffet

19C French Breakfast Console Buffet

19C French Breakfast Console Buffet

19C French Breakfast Console Buffet

19C French Breakfast Console Buffet
This Console/Breakfast Buffet is of the HIGHEST QUALITY. It was obviously made by a top maker…..the underside of the central drawer has a mark of three "X's" (XXX). We have been unable to identify this mark but the quality of the piece in terms of its marquetry/parquetry inlay, it's use of the highest quality kingwood, harewood, burl amboyna and walnut is OUTSTANDING. The ormolu mounts are also of the highest quality and the central ormolu plaque is EXCEPTIONAL in its detail of cherubs and a Bacchanalian/harvest scene. 
We have 'no doubt' that this was made by a top maker such as Francois Linke or one of his contemporaries.
LOUIS XVI: Louis XVI (French pronunciation: [lwi sɛːz]; 23 August 1754 – 21 January 1793), born Louis-Auguste, also known as Louis Capet was King of France from 1774 until his deposition in 1792, although his formal title after 1791 was King of the French. He was guillotined on January 21, 1793. His father, Louis, Dauphin of France, was the son and heir apparent of Louis XV of France, but his father died in 1765, and Louis succeeded his grandfather as king in 1774.
The first part of Louis' reign was marked by attempts to reform France in accordance with Enlightenment ideals. These included efforts to abolish serfdom, remove the taille, and increase tolerance toward non-Catholics. The French nobility reacted to the proposed reforms with hostility, and successfully opposed their implementation. Louis implemented deregulation of the grain market, advocated by his liberal minister Turgot, but it resulted in an increase in bread prices. In period of bad harvests, it would lead to food scarcity which would prompt the masses to revolt. From 1776 Louis XVI actively supported the North American colonists, who were seeking their independence from Great Britain, which was realized in the 1783 Treaty of Paris.
The ensuing debt and financial crisis contributed to the unpopularity of the Ancien Régime which culminated at the Estates-General of 1789. Discontent among the members of France's middle and lower classes resulted in strengthened opposition to the French aristocracy and to the absolute monarchy, of which Louis and his wife, queen Marie Antoinette, were viewed as representatives. In 1789, the storming of the Bastille during riots in Paris marked the beginning of the French Revolution.
Louis's indecisiveness and conservatism led some elements of the people of France to view him as a symbol of the perceived tyranny of the Ancien Régime, and his popularity deteriorated progressively. His disastrous flight to Varennes in June 1791, four months before the constitutional monarchy was declared, seemed to justify the rumors that the king tied his hopes of political salvation to the prospects of foreign invasion. The credibility of the king was deeply undermined and the abolition of the monarchy and the establishment of a republic became an ever increasing possibility.
In a context of civil and international war, Louis XVI was suspended and arrested at the time of the insurrection of 10 August 1792 one month before the constitutional monarchy was abolished and the First French Republic proclaimed on 21 September 1792. He was tried by the National Convention (self-instituted as a tribunal for the occasion), found guilty of high treason, and executed by guillotine on 21 January 1793, as a desacralized French citizen known as "Citizen Louis Capet", a nickname in reference to Hugh Capet, the founder of the Capetian dynasty – which the revolutionaries interpreted as Louis' family name. Louis XVI was the only King of France ever to be executed, and his death brought an end to more than a thousand years of continuous French monarchy.
Link: https://en.wikipedia.org/wiki/Louis_XVI_of_France
François Linke (1855-1946) was a leading Parisian ébéniste of the late 19th and early 20th centuries.
Linke was born on 17 June 1855 in the small village of Pankraz, in what is now the Czech Republic. Records show that Linke served an apprenticeship with the master cabinet maker, Neumann, which he completed in 1877.[1] Linke's work book or Arbeits-Buch records that he was in Vienna from July 1872 to October 1873[1] at the time of the International Exhibition held there in 1873.
He subsequently travelled to Prague, Budapest & Weimar before finally arriving in Paris in 1875. It is documented that he obtained employment with an unknown German cabinetmaker in Paris, and stylistic similarities, photographs and geographical proximity have led some[3] to suggest that Emmanuel Zwiener was the most likely candidate. After a period back in his home town of Pankratz, he returned once and for all to Paris in 1877. In 1878 Paris hosted the third great International Exhibition, a remarkable success for a country ravaged by war only seven years earlier. It is known that the fledgling Linke workshops were active in the Faubourg St. Antoine as early as 1881,[4] during this time he supplied furniture for other more established makers such as Jansen and Krieger.
By 1889 another World's Fair, as they were often referred to in America, took place in Paris. Monsieur Eiffel erected what has become the most iconic building in Paris for the exhibition and the atmosphere of wealth and confidence may well have encouraged Linke to think that he could contribute an important part to the next great exhibition. As early as 1892 this was decreed to take place at the end of the century, in an attempt to pre-empt Berlin from staging the last great show of the century.
In 1892, Victor Champier (fr) one of the commissioners for the 1900 Paris Fair had appealed, "Create in the manner of the masters, do not copy what they have made".[5] It was an appeal against mere reproduction and Linke rose to this challenge in an unparalleled way with his unique display that was to include the Grand Bureau.
Determined to outshine the competition at the Exhibition, Linke had set about creating the most ambitious pieces he could envisage, and more extravagant than had ever been displayed before. The items he exhibited marked a transition from the historicist interpretation of Louis XV and Louis XVI styles, an interpretation that was the mainstay of his nearest rivals, to something startlingly new and vital in its immediacy.[6] Together with Léon Messagé he developed a new style for the 1900 Exhibition that paid homage to the Louis XV rococo in the fluidity of its approach, but an approach fused with the lively flowing lines of the contemporary and progressive 'art nouveau'. The Art Journal reported in 1900 on Linke's stand:
"The work of M. Linke … was an example of what can be done by seeking inspiration amongst the classic examples of Louis XV and XVI without in any great sense copying these great works. M. Linke's work was original in the true sense of the word, and as such commended itself to the intelligent seeker after the really artistic things of the Exhibition. Wonderful talent was employed in producing the magnificent pieces of furniture displayed".[7]
Linke's stand would have appeared refreshingly new to contemporary onlookers, the traditional designs of the eighteenth century melting seamlessly into an exuberant naturalism. The 'Revue' described Linke's style as 'entièrement nouveaux' and noted "This opinion is universally accepted. Linke's stand is the biggest show in the history of art furniture in the year 1900".[8] It is perhaps the most extraordinary and remarkable aspect of Linke's personal history that he produced such expensive and luxurious furniture of exquisite quality for the 1900 exhibition without any commission or any potential buyer in mind.[9] At a time when other more established furniture businesses such as those of Beurdeley and Dasson were closing down, he made a huge investment in his stand and the furniture he supplied for it. Linke recognised that to move his business forward he needed to appeal to a more International clientele and the new emerging rich who were at this time amassing fortunes on an unprecedented scale. For this reason he gambled everything he had on his display for the 1900 exhibition. Had this not succeeded he would almost certainly have succumbed to bankruptcy. Linke's notebook records visitors to his stand from England, Europe, the Americas, Egypt and Japan and including; the King of Sweden, three visits from the King of Belgium, Prince Radziwill, the Prince d'Arenberg, the Comte Alberic du Chastel, Miss Anna May Gould, the American heiress, distinguished furniture makers and the President of France Emile Loubet.
This risky endeavour was a resounding success, and with his reputation established, La Maison Linke became the pre-eminent furniture house until outset of the Second World War. The technical brilliance of his work and the artistic change that it represented was never to be repeated. His showrooms expanded into prestigious premises in Paris, in the Place Vendôme as well as the Faubourg St. Antoine where his workshop had been established. He embarked on many important commissions in the years up to the outbreak of the First World War, making and designing furniture for leading international industrialists and bankers. After the 1914-1918 World War, Linke undertook the extraordinary commission to furnish the Ras al-Tin Palace in Alexandria for King Fuad of Egypt, possibly the largest single furniture commission ever conceived, eclipsing even Versailles. Linke flourished and remained active until the middle years of the 1930s and died in 1946.
Link: https://en.wikipedia.org/wiki/Fran%C3%A7ois_Linke
CONDITION: Overall the piece is in very good condition. There are one or two minor losses of veneer but this does not detract from its beauty..
IT IS A FABULOUS AND RARE PIECE OF FRENCH FURNITURE!!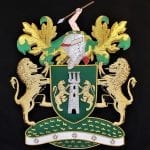 19C French Breakfast Console Buffet
Provenance: From the Private Collection of a Dallas Collector. Originally from Persia who purchased the piece in Europe circa 25 years ago.
Condition: See above.
Dimensions: 38in. (96cm.) high, 56in. (168cm.) wide, 14.25in. (61cm.) deep.
Price: $12,499 : SALE PRICE NOW: $6,800