Vintage Pair of Limoges Plaques Commemorating Emperor Napoleon and Josephine.
Vintage Pair of Limoges Plaques Commemorating Emperor Napoleon and Josephine

PRESENTING a lovely Vintage Pair of Limoges Plaques Commemorating Emperor Napoleon and Josephine.
The first plaque features the Emperor Napoleon on Horseback in Battle on his favorite horse….Marengo !
This sculpture is based upon the famous painting of "Napoleon Crossing the Alps" by Jacques Louis David circa 1805.
The second plaque features the Empress Josephine reclining by a stream and ruins.
The plaques are edged with the Napoleonic eagles and insignia 'N" surrounded by laurels.
Both plaques are Limited Editions and all fully marked on the rear.
They were painted by Claude.Boulme and each is signed on the front.
In the style of the famous Sevres Porcelain.
Made in Limoges, France by D'Arceau Limoges. Premier Edition. Edition Limitee No. AK 347 for the Empress Josephine and BS 39L for Napoleon..

---
Napoleon Crossing the Alps (also known as Napoleon at the Saint-Bernard Pass or Bonaparte Crossing the Alps) is the title given to the five versions of an oil on canvas equestrian portrait of Napoleon Bonaparte painted by the French artist Jacques-Louis David between 1801 and 1805. Initially commissioned by the King of Spain, the composition shows a strongly idealized view of the real crossing that Napoleon and his army made across the Alps through the Great St. Bernard Pass in May 1800.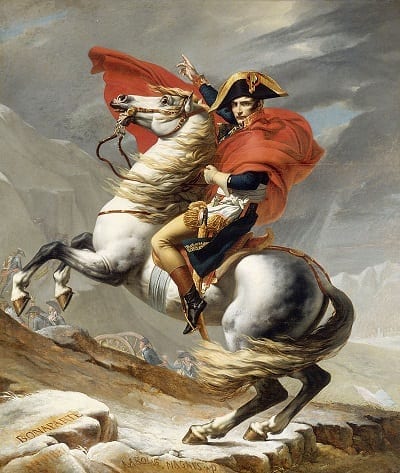 Link: https://en.wikipedia.org/wiki/Napoleon_Crossing_the_Alps
These plaques were both made in 1977....as marked on the makers label on the rear.

---
Joséphine de Beauharnais (pronounced [ʒo.ze.fin də‿bo.aʁ.nɛ]; née Tascher de la Pagerie; 23 June 1763 – 29 May 1814) was the first wife of Napoleon I, and thus the first Empress of the French (commonly called Empress Joséphine or just Joséphine).
Her marriage to Napoleon I was her second; her first husband Alexandre de Beauharnais was guillotined during the Reign of Terror, and she was imprisoned in the Carmes prison until five days after Alexandre's execution. Her two children by Alexandre became significant to royal lineage. Through her daughter, Hortense, she was the maternal grandmother of Napoléon III. Through her son, Eugène, she was the great-grandmother of later Swedish and Danish kings and queens. The reigning houses of Belgium, Norway and Luxembourg also descend from her. She did not bear Napoleon any children; as a result, he divorced her in 1810 to marry Marie Louise of Austria.
Joséphine was the recipient of numerous love letters written by Napoleon, many of which still exist. Her Château de Malmaison was noted for its magnificent rose garden, which she supervised closely, owing to her passionate interest in roses, collected from all over the world.
Link: https://en.wikipedia.org/wiki/Jos%C3%A9phine_de_Beauharnais

---
MARENGO: Marengo (c. 1793–1831) was the famous war mount of Napoleon I of France. Named after the Battle of Marengo, through which he carried his rider safely, Marengo was imported to France from Egypt in 1799 as a 6-year-old. The grey Arabian was probably bred at the famous El Naseri Stud. Although small (only 14.1 hands (57 inches, 145 cm)) he was a reliable, steady, and courageous mount.
Marengo was wounded eight times in his career, and carried the Emperor in the Battle of Austerlitz, Battle of Jena-Auerstedt, Battle of Wagram, and Battle of Waterloo. He also was frequently used in the 80 mile gallops from Valladolid to Burgos, which he often completed in 5 hours. As one of 52 horses in Napoleon's personal stud, Marengo fled with these horses when it was raided by Russians in 1812, surviving the retreat from Moscow; however, the stallion was captured in 1815 at the Battle of Waterloo by William Henry Francis Petre, 11th Baron Petre.
Petre brought the horse back to the United Kingdom and sold him on to Lieutenant-Colonel Angerstein of the Grenadier Guards. Marengo stood at stud (unsuccessfully) at New Barnes, near Ely, at the age of 27. He eventually died at the old age of 38, and his skeleton (minus 2 hooves) was preserved and later passed to the Royal United Services Institute and is now on display at the National Army Museum in Chelsea, London. One of the remaining hooves was given to the officers of the Brigade of Guards by John Julius Angerstein as a snuff box. The 4th hoof was mounted as a silver inkwell and retained by the family, it is still owned by the family but is now on loan to the Household Cavalry Museum. The Duke of Wellington was asked to disinter his own horse, Copenhagen, to be exhibited alongside Marengo, but refused to do so. Coincidentally one of Copenhagen's hooves was also later used as an ornament.
Link: https://en.wikipedia.org/wiki/Marengo_%28horse%29

---
Vintage Pair of Limoges Plaques Commemorating Emperor Napoleon and Josephine.
Dimensions: 
Provenance: From a Private Collection.
Condition: Mint.
Price: $175.00.

Sale Price Now: $129.99 (Pair)