Vintage Noritake Lustreware Platter and 6 Salts.



Vintage Noritake Lustreware Platter and 6 Salts
PRESENTING a GORGEOUS and EXTREMELY RARE mid-20th Century, Noritake Lustreware Platter in the shape of a large leaf with painted flowers and buds on the handle, together with 6 matching salts with flower buds.
From circa 1930- 35.
Made of lustre porcelain, with CLASSIC Mid-century (1950's) styling.


---
A VERY, VERY RARE !!!! HIGHLY COLLECTIBLE!!!

---
Orange, blue, and black lustre and white, green and yellow tones.
Marked for 'Noritake...the letter "M" ....Handpainted....Made in Japan' .

---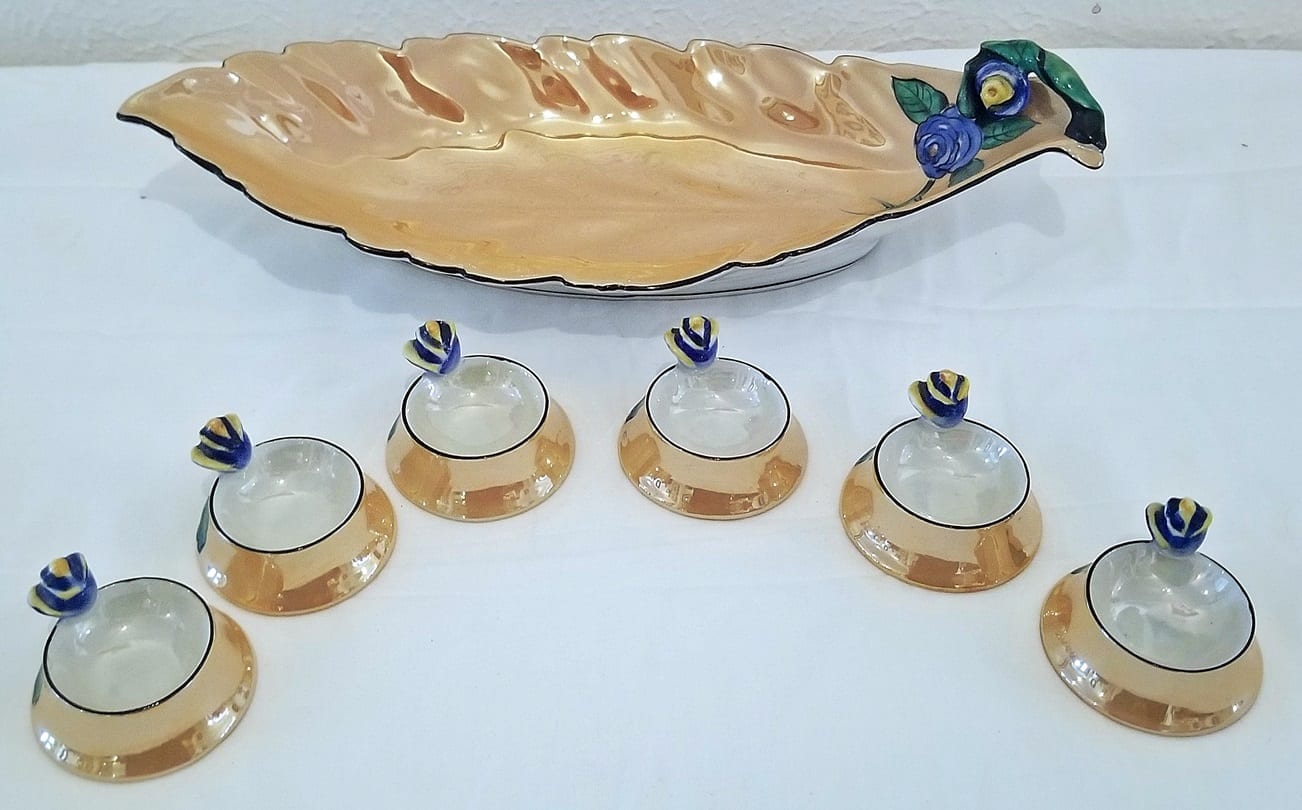 Noritake Co., Limited (株式会社ノリタケカンパニーリミテド Kabushiki-gaisha Noritake Kanpanī Rimitedo), commonly known as "Noritake," is a tableware and technology company headquartered in Nagoya, Aichi Prefecture, Japan.
In 1876, Ichizaemon Morimura VI and his brother Toyo founded Morimura Gumi with the intent of establishing overseas trading by a Japanese company. By 1878, Toyo had established a business in New York selling Japanese antiques and other goods, including pottery. The company was renamed Morimura Brothers in 1881. By the 1890s, the company had shifted from retail to wholesale operations and started working on design improvements for the pottery and porcelain ware, which had become one third of its business. By 1899, all of the pottery and porcelain decorating factories in Tokyo and Kyoto had been consolidated in Nagoya, and the company started research on creating European style hard white porcelain in Japan.[3][4][5]
In 1904, key members of this trading company created the Nippon Toki Kaisha, Ltd. ("the Company that makes Japan's Finest China") in Japan.[5] A new factory was built in Noritake, near Nagoya (now Noritake-shinmachi, Nishi-ku, Nagoya, Aichi). In 1914 the company succeeded in creating their first Western style dinner set, called "Sedan", to compete with European porcelain companies.[3][4] Nippon Toki wares were mostly aimed at the European Market. This forerunner of the modern Noritake Company was founded in the village of Noritake, a small suburb near Nagoya, Japan. Most of the company's early wares carried one of the various "Nippon" back stamps to indicate its country of origin when exported to Western markets.[5] Today, many collectors agree that the best examples of "Nippon-era" (1891–1921) hand painted porcelain carry a back stamp used by "Noritake" during the Nippon era.
By 1923, Nippon Toki was looking to streamline its paperwork using machines to handle large orders coming in from the United States, and was impressed by the Hollereth tabulating machines manufactured by the Computing-Tabulating-Recording Company (CTR). In May 1925, Morimura-Brothers entered into a sole agency agreement with CTR (which had been renamed IBM in 1924) to import the Hollerith machines into Japan. The first Hollerith tabulator in Japan was installed at Nippon Pottery in September 1925, making Noritake IBM customer #1 in Japan.

---
Vintage Noritake Lustreware Platter and 6 Salts.
Provenance: From a Private Collection of a former Antique Dealer in TX.
Condition: Mint.
Dimensions:  " wide, " deep and " tall. 
Price: $180.00 (Set).

Sale Price Now: $120.00 (Set)
Vintage Noritake Lustreware Platter and 6 Salts