Pair of 17C English Oak Cabinet Doors.



Pair of 17C English Oak Cabinet Doors
ABSOLUTELY GORGEOUS Pair of 17th Century…..Renaissance ………English Oak Cabinet Doors.
The natural Patina on these doors is simply STUNNING.
They have the original iron hardware attached save one strrap that is missing.
These are English provincial pieces. Constructed circa 1625….beautifully hand carved.
They were probably the doors belonging to a to a cabinet……but would now have a multitude of decorative uses.

REALLY RARE and DESIRABLE!!!

---
The Jacobean style is the second phase of Renaissance architecture in England, following the Elizabethan style. It is named after King James I of England, with whose reign (1603–1625 in England) it is associated. At the start of James' reign there was little stylistic break in architecture, as Elizabethan trends continued their development. However his death in 1625 came as a decisive change towards more classical architecture, with Italian influence, was in progress, led by Inigo Jones; the style this began is sometimes called Stuart architecture, or English Baroque (though the latter term may be regarded as starting later).
Courtiers continued to build large prodigy houses, even though James spent less time on summer progresses round his realm than Elizabeth had. The influence of Flemish and German Northern Mannerism increased, now often executed by immigrant craftsmen and artists, rather than obtained from books as in the previous reign. There continued to be very little building of new churches, though a considerable amount of modifications to old ones, but a great deal of secular building.
Link: https://en.wikipedia.org/wiki/Jacobean_architecture


---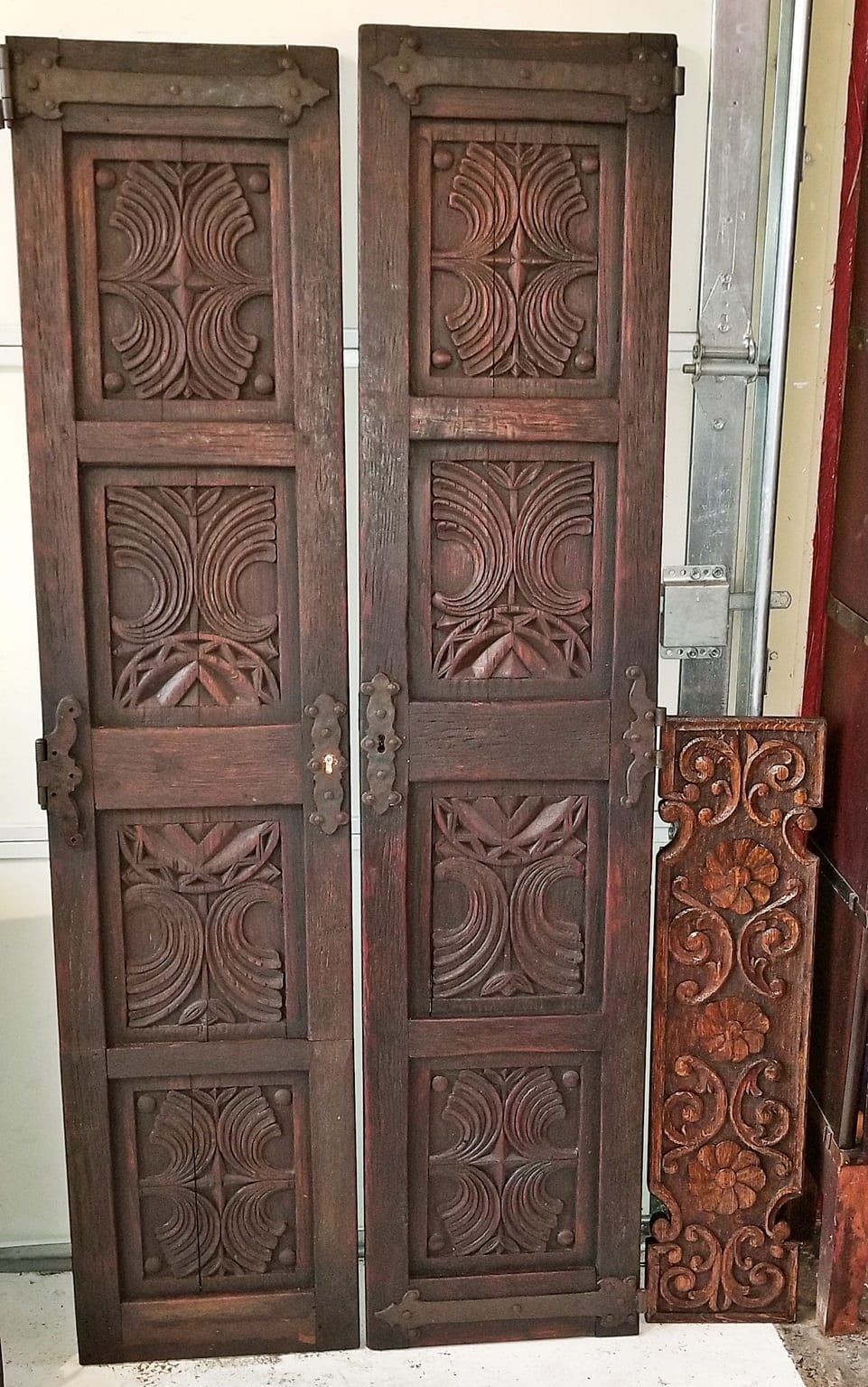 ---
Pair of 17C English Oak Cabinet Doors.
Provenance: From a Dallas Private Collection.
Dimensions: One is 63" tall, 14" Wide and 1.25" Deep
One is 62" tall, 14" Wide and 1.25" Deep
Condition: Very Good. Normal wear and tear from a piece of this age. One strap missing.
Price: $3,800.00 (Pair).

Sale Price Now: $2,600.00 (Pair)
Pair of 17C English Oak Cabinet Doors