Early 20C Pair of Mahogany Sheraton-Adams Style Night Stands.
Early 20C Pair of Mahogany Sheraton-Adams Style Night Stands

Presenting a RARE Early 20C Pair of Mahogany Sheraton-Adams Style Night Stands.
From circa 1920 and made of solid mahogany.
A matching pair.
In the Sheraton or Adams Style………reminiscent of the Regency Period of 1790 to 1810……would be classified as Regency Revival pieces.
BEAUTIFUL molding on all corners and on the base.
The gilded brass handles are classically Adams in style with urns and swags.
3 drawers in each stand. Beautifully dovetailed joints. Quality pieces..
We also have a central panel that can connect the 2 stands to make a dressing table.

---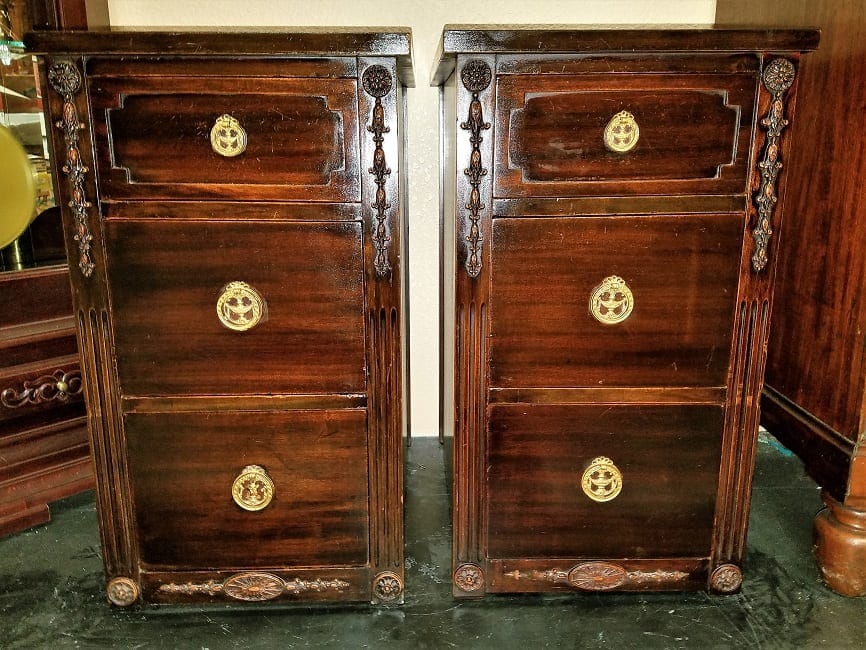 ---
The Adam style (or Adamesque and "Style of the Brothers Adam") is an 18th-century neoclassical style of interior design and architecture, as practised by three Scottish brothers, of whom Robert Adam (1728–1792) and James Adam (1732–1794) were the most widely known.
The Adam brothers were the first to advocate an integrated style for architecture and interiors; with walls, ceilings, fireplaces, furniture, fixtures, fittings and carpets all being designed by the Adams as a single uniform scheme. Commonly and mistakenly known as "Adams Style," the proper term for this style of architecture and furniture is the "Style of the Adam Brothers."
The Adam style found its niche from the late 1760s in upper-class and middle-class residences in 18th-century England, Scotland, Russia (where it was introduced by Scottish architect Charles Cameron), and post-Revolutionary War United States (where it became known as Federal style and took on a variation of its own). The style was superseded from around 1795 onwards by the Regency style and the French Empire style.
The work of the Adam brothers set the style for domestic architecture and interiors for much of the latter half of the 18th century.
Robert and James Adam travelled in Italy and Dalmatia in the 1750s, observing the ruins of the classical world. On their return to Britain, they set themselves up with their older brother, John, as architects. Robert and James published a book entitled The Works in Architecture in instalments between 1773 and 1779. This book of engraved designs made the Adam repertory available throughout Europe. The Adam brothers aimed to simplify the rococo and baroque styles which had been fashionable in the preceding decades, to bring what they felt to be a lighter and more elegant feel to Georgian houses. The Works in Architecture illustrated the main buildings the Adam brothers had worked on and crucially documented the interiors, furniture and fittings, designed by the Adams. A parallel development of this phase of neoclassical design is the French Louis XVI style.
The Adam style moved away from the strict mathematical proportions previously found in Georgian rooms, and introduced curved walls and domes, decorated with elaborate plasterwork and striking mixed colour schemes using newly affordable paints in pea green, sky blue, lemon, lilac, bright pink, and red-brown terracotta.
Artists such as Angelica Kauffman and Antonio Zucchi were employed to paint classical figurative scenes within cartouches set into the interior walls and ceilings.
The Adam's main rivals were James Wyatt, whose many designs for furniture were less known outside the wide circle of his patrons, because he never published a book of engravings; and Sir William Chambers, who designed fewer furnishings for his interiors, preferring to work with such able cabinet-makers as John Linnell, Thomas Chippendale, and Ince and Mayhew. So many able designers were working in this style in London from circa 1770 that the style is currently more usually termed Early Neoclassical.
It was typical of Adam style to combine decorative neo-Gothic details into the classical framework. So-called "Egyptian" and "Etruscan" design motifs were minor features.
The Adam style is identified with:
Classical Roman decorative motifs, such as framed medallions, vases, urns and tripods, arabesque vine scrolls, sphinxes, griffins, and dancing nymphs
Flat grotesque panels
Pilasters
Painted ornaments, such as swags and ribbons
Complex pastel colour schemes
The Adam style was superseded from around 1795 onwards by the simpler Regency style in Britain; and the French Empire style in France and Russia, which was a more imperial and self-consciously archeological style, connected with the First French Empire.
Link: https://en.wikipedia.org/wiki/Adam_style

---
Early 20C Pair of Mahogany Sheraton-Adams Style Night Stands.
Provenance: From a Private Collector in University Park, Dallas.
Condition: Very Good.
Dimensions:  Each is 26.5" tall, 15.25" wide and 22" deep .
Price: $1,600.00.

Sale Price Now: $899.99 (Pair)