Art Deco Helen Fette Oriental Floor Rug Medium.



Art Deco Helen Fette Oriental Floor Rug Medium
PRESENTING a BEAUTIFUL and RARE Medium sized Helen Fette Oriental Rug from the Art Deco Era.
Beautifully detailed and HIGH QUALITY weave.
Lovely patina consistent with age.
From circa 1925…….American/Oriental.


---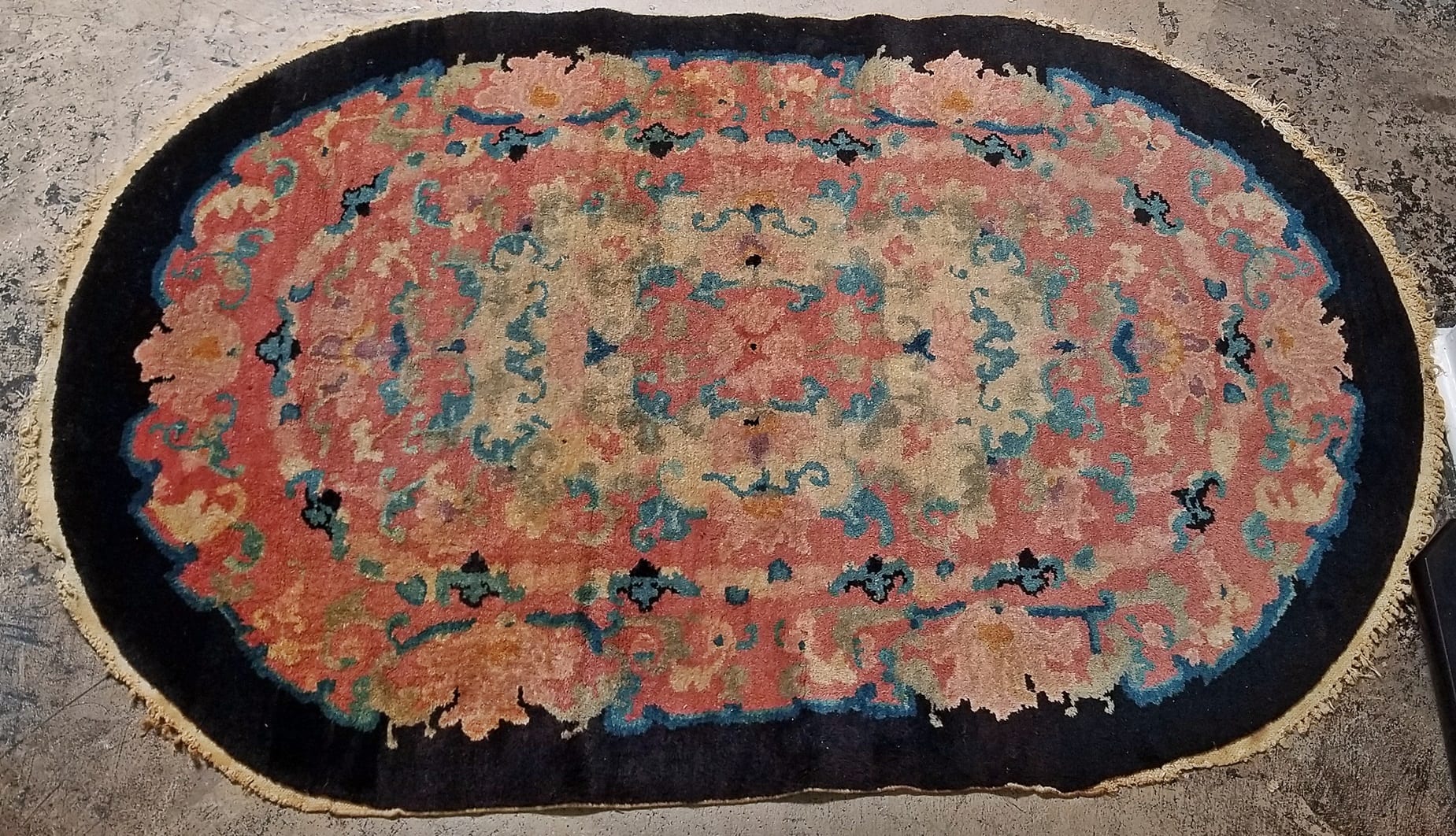 ---
ONE OF A PAIR!!

---
Art Deco, sometimes referred to as Deco, is a style of visual arts, architecture and design that first appeared in France just before World War I.[1] Art Deco influenced the design of buildings, furniture, jewelry, fashion, cars, movie theatres, trains, ocean liners, and everyday objects such as radios and vacuum cleaners.[2] It took its name, short for Arts Décoratifs, from the Exposition internationale des arts décoratifs et industriels modernes (International Exhibition of Modern Decorative and Industrial Arts) held in Paris in 1925.[3] It combined modernist styles with fine craftsmanship and rich materials. During its heyday, Art Deco represented luxury, glamour, exuberance, and faith in social and technological progress.
Art Deco was a pastiche of many different styles, sometimes contradictory, united by a desire to be modern. From its outset, Art Deco was influenced by the bold geometric forms of Cubism; the bright colors of Fauvism and of the Ballets Russes; the updated craftsmanship of the furniture of the eras of Louis Philippe I and Louis XVI; and the exotic styles of China and Japan, India, Persia, ancient Egypt and Maya art. It featured rare and expensive materials, such as ebony and ivory, and exquisite craftsmanship. The Chrysler Building and other skyscrapers of New York built during the 1920s and 1930s are monuments of the Art Deco style.
Link: https://en.wikipedia.org/wiki/Art_Deco


---
The term Art Deco refers to the style launched at the 1925 Paris World's Fair Exhibition of Modern and Industrial Decorative Art.
Art Deco rugs introduced a new, nonrestrictive color palette. Bright, never-before-used combinations were the new trend. The soft blue of traditional Chinese rugs was replaced by a more vibrant lapis blue, while the traditional calm gold gave way to varying shades of ochre, green, raspberry, plum, purple and teal also became popular.
Because of its low production costs, China became the hub for weaving Art Deco rugs exported to the States. There were hundreds of factories producing rugs but it was two enterprising Americans who dominated: Helen Fette and Walter Nichols. Little did they know their names would become synonymous with the term and virtually all rugs woven during that era, which ran from the mid 1920's to around 1935.
Helen Fette went to China as a missionary, selling small rugs to raise funds for charities. She teamed up with Chinese rug manufacturer Li Meng Shu to form the Fette-Li Company. They started producing rugs out of the Peking area in the early 1920's and were one of the largest exporters of the period. Fette rugs are recognizable by their floppy feel. The cotton warps are thinner and more pliable than those used in Nichols carpets, resulting in a soft, supple feel to the pile.
In 1924 Walter Nichols opened the doors of his venture, Nichols Super Yarn and Carpets in Tientsin, North China. Super Yarn because of the machine spun yarn, the strong cotton used for the foundation, and the overall tightly packed weave of the rugs. In stark contrast to his Fette counterpart, a Nichols rug was quite dense and heavy.
Both Fette and Nichols placed identifying fabric tags on the back of their rugs. Nichols also stamped his name onto the backside of the fringe, however if the fringe has worn down or been repaired, the mark is usually absent. Because Fette and Nichols were so closely associated with the Deco period, rugs woven in their trademark style, absent any remaining identification marks, are routinely referred to as Fette or Nichols style.
No other Oriental rugs are as representative of their time as the Chinese Decos. The dynamics of the designs and the colors used are hallmarks of the era. It was a time of experimentation with abstract forms and unrestrained colors. The style arrived energetically, but was cut short due to the Great Depression. The few remaining factories were destroyed when Japan invaded China during World War II.
Art Deco Helen Fette Oriental Floor Rug Medium
Provenance: From a Private Dallas-Fort Worth Collection.
These Fette Rugs were authenticated and appraised by well-known Oriental Rug Expert, Ellen A. Amirkhan of Dallas, TX in 2007.
Dimensions: 3.2' x 5'
Price: $1,750.00 .

Sale Price Now: $1,250.00
Art Deco Helen Fette Oriental Floor Rug Medium