18C Country French Cherrywood Side Table
Presenting an EXTREMELY RARE 18C Country French Cherrywood Side Table, also known as French Provincial.
From circa 1790 and made of cherrywood,this beautifully proportioned side table has 2 shelves and a side drawer and is classic and original French Provincial artistry.
Constructed using wooden pegs giving a clear indication of it's authenticity.
It stands on gorgeous cabriolet legs.
The galleried top shelves have curved edges and shield shaped pierced sides.

---
A STUNNING EARLY FRENCH PROVINCIAL PIECE!!

---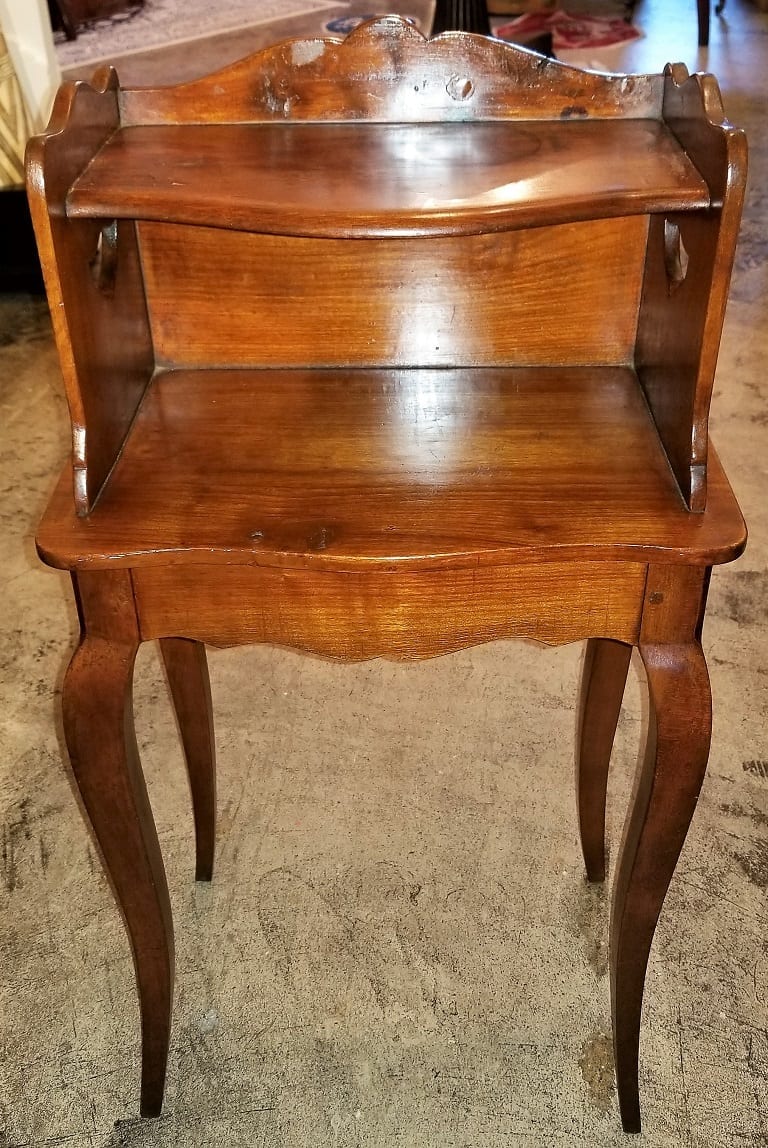 ---
French furniture comprises both the most sophisticated furniture made in Paris for king and court, aristocrats and rich upper bourgeoisie, on the one hand, and French provincial furniture made in the provincial cities and towns many of which, like Lyon and Liège, retained cultural identities distinct from the metropolis. There was also a conservative artisanal rural tradition of French country furniture which remained unbroken until the advent of the railroads in the mid-nineteenth century.
Furniture made in provincial centers such as Blois and Orléans in the Loire valley, and at Lyon or Liège (Not part of France politically but within its cultural orbit), followed at some distance the design innovations that were initiated in the luxury trades of Paris, often with a time lag that could amount to decades.
Features typically associated with French Provincial furniture include cabriole legs, and simple scalloped carving. Dining chairs often have a wheat pattern carving reflecting the country surroundings of the maker. The ladder back chair with a woven rush seat is the typical French Provincial dining chair. Finishes vary though common to all colours is the accumulation of polish or grime in the carving over time resulting in an aged patina and emphasis on the carving regardless of whether the furniture is painted or stained.
Link: https://en.wikipedia.org/wiki/French_furniture

---
This Table has IMPECCABLE  PROVENANCE:
It is from the Lida Calvert Hall/Obenchain/Godwin/McMillan Collection.
It was most likely purchased by a Scotta Godwin/Obenchain from a French Antique Auction held at the Club Room in the Stoneligh Court (Hotel), Dallas on Wednesday the 2nd April 1930. (Now The Meridian Hotel).
We have the Original Auction Catalog which has remained with the table since it was acquired at that Auction (along with other pieces in the Calvert Hall-Obenchain Collection on our Site).
The Auction was titled: " Works of Art and Furnishings of The Chateau de Turique (Nancy) and The Conde-Rougemont Home (Touraine). The cover of the Catalog also has a seal of a Coat of Arms.
The first page of the Catalog States: "Exhibition on Wednesday, April 2nd And Following Days From 10 A.M. to 10 P.M......EXHIBITION at CLUB ROOM, STONELIGH COURT, DALLAS, TEXAS".
The Second page gives a brief description of the Auction contents and states that " This Exhibition will be presented by M. Fernand M. Adda of Paris France"
We are not certain of the Lot Number but it most likely was in this Auction." 

---
18C Country French Cherrywood Side Table.
Provenance: From the Lida Calvert Hall/Obenchain/Godwin/McMillan Collection.
Check out our PDF on this Collection: Calvert Hall,Obenchain,McMillan,Godwin Introduction PDF
Condition: Fair ORIGINAL condition. Some minor blemishes as one would expect for a piece of it's age. There are some repairs to the side of the table.  We have reflected this repair in the price.
Dimensions: 31" tall, 15.75" wide and 10.5" deep.
Price: $1,699.00